Newsletter
News from Senator Blakespear
Dear Friend,
By the time this hits your in-box, it will be competing with headlines about Governor Newsom's latest budget plan.
Governor Newsom announced his updated budget proposal on Friday and, as expected, it included a significantly larger deficit than previously estimated. It's now projected to be $31.5 billion, and his $306.5-billion spending plan covers it mainly by cutting back previously planned spending increases for programs.
More alarming, however, is that a bigger deficit could be in store next year, if the national economy slides into recession, as some economists are predicting. The Los Angeles Times provided this overview.
I applaud the Governor's approach – to avoid making ongoing cuts to core programs, to expand responsible borrowing and to preserve the state's Rainy Day Fund. I will continue to advocate for homeless-serving housing and public transportation.
I also commend the Governor for his commitment to housing accountability, which aligns with legislation I have authored, SB 7, that would obligate cities and counties to provide housing opportunities for their unhoused residents.
Now the Legislature will get to work writing the final budget. So we shall see what is possible.
May is known in the state Capitol for the Governor's budget May Revision AND for the race to meet the first big legislative deadline – passing bills out of the house they were introduced in.
Bills not passed out of their house of origin by June 2 are then stalled for the year – they become "two-year bills," meaning "Better luck next year!" That's not necessarily a bad thing, as sometimes ambitious bills take more time to develop.
That is the case with a bill I am working on to require gun buyers to have liability insurance to cover accidental death or injury caused by someone's firearm. You can watch my presentation on SB 8 here.
This bill did not make it out of committee, which means it's no longer viable this year. I look forward to working on the bill over the summer to resolve some roadblocks and see if there's a path forward that generates support next year. I have two other gun safety bills, SB 417 and SB 452, that are still moving forward, thankfully.
I am excited that I have already started passing some of my bills off the Senate floor! See my legislative update below for more details.
Thank you for your input and engagement, and for your interest and support. I am honored to be your state senator and am committed to serving you!
In partnership,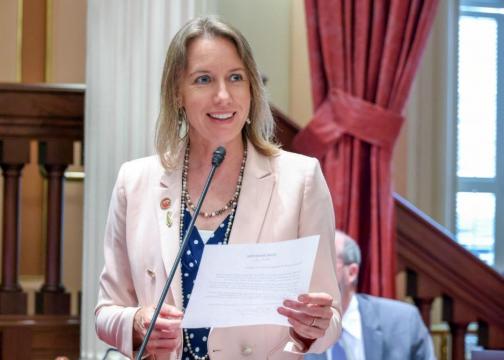 Presenting my first bill on the Senate floor, SB 360.
I am delighted to report that my first bill brought up for a vote on the Senate floor passed 36-0!
This is a relatively small bill. It expands opportunities for Coastal Commissioners to be representatives on multiple outside boards at the same time. This helps constituents because we're all better served by having highly knowledgeable representatives who can draw on multiple levels of municipal experience in their decision-making. Specifically, SB 360 broadens the agencies that a member of the Coastal Commission can jointly serve on to include a Local Agency Formation Commission or a Joint Powers Authority. The legislation goes next to the Assembly for consideration.
The Senate also passed SB 417, my legislation to require gun sellers to post warnings about the danger of having a firearm in a home, on a bipartisan 32-4 vote. This legislation is another step to help prevent gun violence and keep families safe.
Several of my other bills will be coming up for floor votes in the coming weeks. I will keep you posted!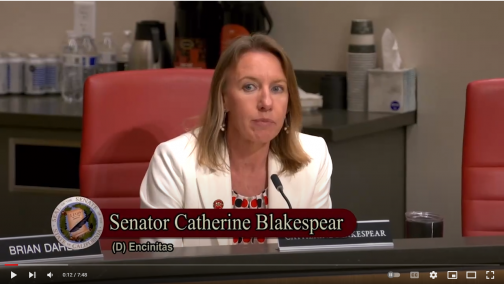 Many people called my office to urge my support for SCA 4, a proposal by Sen. Kelly Seyarto, R-Murrieta, to put on the state ballot a measure allowing voters to decide whether to reinstate the property tax reductions for interfamily property transfers that were removed in 2020 by Proposition 19. I believe we should give voters the chance to weigh in on this important decision, which negatively impacted many families. I voted yes to move this forward.
The legislation, however, failed to pass the Senate Governance and Finance Committee and will not move forward this year. You can read the committee's analysis of the bill here. This is how I explained why I supported SCA 4. (Click on the image to link to the video.)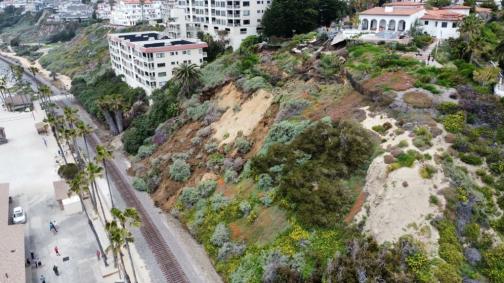 The hillside below Casa Romantica (top right) and above the rail tracks, after the most recent slide. (Photo courtesy of Orange County Register.)
Less than two weeks after being fully reopened to limited passenger rail traffic, the LOSSAN rail line had to be shut down again on April 27 in San Clemente, when the hillside below Casa Romantica started to give way and endangered the tracks. While the tracks remain intact, they have been closed to passenger traffic until the stability of the hillside can be assessed.
This is tremendously disappointing. It comes shortly after train service was restored between Irvine and Oceanside, after extensive work was done to stabilize tracks impacted by erosion. We've seen this past year just how vulnerable this vital rail line is to effects of sea level rise and bluff instability. There is no timeline for when passenger rail service will be reinstated.
This rail line is the second busiest intercity passenger rail corridor in the United States.
Next week, on Tuesday, the Senate Transportation Subcommittee on LOSSAN Rail Corridor Resiliency will hold its first hearing. The subcommittee, which I chair, will examine the rail line's impact and its infrastructure needs so that the state can do its part to ensure it remains viable for decades to come.
One main goal is to raise the profile of the rail corridor as a whole and ensure that different projects along the rail line do not compete against each other for funding. Every week we are reminded about the urgency required for this task. We need both short-term and long-term solutions, and I look forward to the work this subcommittee can do to provide them.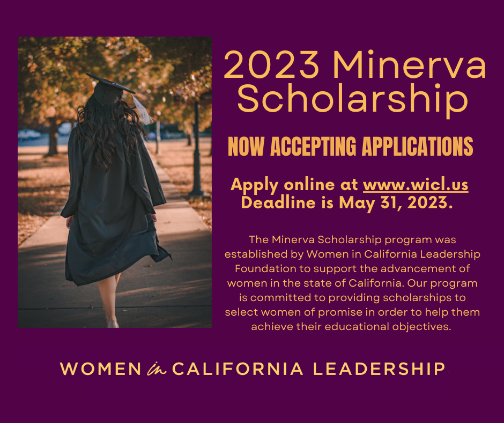 Attention young women, the Women in California Leadership Minerva Scholarship application process is currently underway. The deadline to apply is May 31.
Don't miss out on this opportunity to earn scholarship money for college! This program will award 108 scholarships of $3,000 and one scholarship of $10,000. The scholarship is aimed at "select women of promise in order to help them achieve their educational goals."
Eligibility requirements and application
Be a full-time student in good academic standing at an accredited college or university OR be a graduating high school senior with written proof of acceptance at an accredited institution of higher learning..
Have a minimum grade point average (GPA) of 2.5.
Submit a completed online application with all required supplementary documents by the application deadline. Please note: Applications and all supplementary documents must be submitted together online. The program does not accept items submitted separately via mail, in person delivery or through legislative offices.
Complete scholarship requirements and details (including the application) are now available on the WiCL Foundation's website, and you can find answers to frequently asked questions.
Winners will be notified in July. Good luck!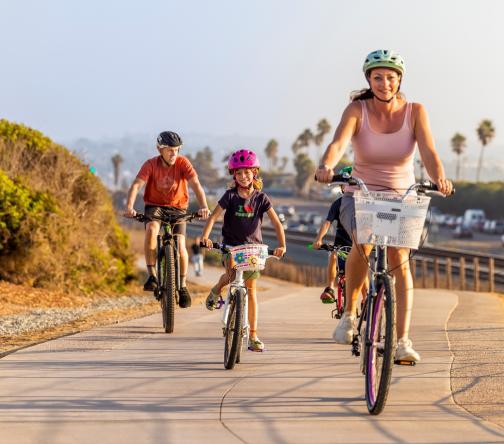 This is the time of year to ride your bike! Bike Anywhere Day, formerly known as Bike to Work Day, takes place on May 18. Join the fun.
You can learn more at the SANDAG bike month web page and OCTA bike month web page.

My district staff is always working to support the community, recognize deserving individuals and achievements and help constituents with problems. Orange County District Representative Maia Meunier (on left, in photo below) recently presented Senate certificates to Cesilia Vega Gonzalez (on right, in photo) and other parent volunteers at the Festival De Los Niños held at the Gates Elementary School in Lake Forest.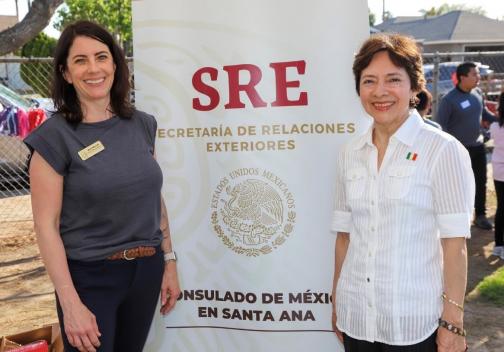 Maia also helped a homeless veteran receive vital services. She connected the veteran to the California Department of Veterans Affairs (CalVet), Orange County Veterans Service Office and staff in U.S. Rep. Mike Levin's office that assisted him in applying for federal programs.
Thanks to Maia's help, the veteran has been able to access housing, veteran's benefits and other support, such as transportation to and from medical appointments. The veteran also got his brother approved as his caregiver.
"You are all my heroes, and my advocates. I'm so grateful for your time and effort," the constituent wrote. "I will always be grateful. Thank you again."
We're here to help as best we can. If you have a state government issue, please contact me at Senator.Blakespear@senate.ca.gov.

Congratulations to Oceanside's new Police Chief Kedrick Sadler! Team Blakespear's Fernando Hernandez joined residents and community leaders for Kedrick's swearing in. Chief Sadler joined the Oceanside Police Department in 2001 after honorably serving in the United States Marine Corps. He has worked with various community-based organizations throughout the years to promote public safety in the city.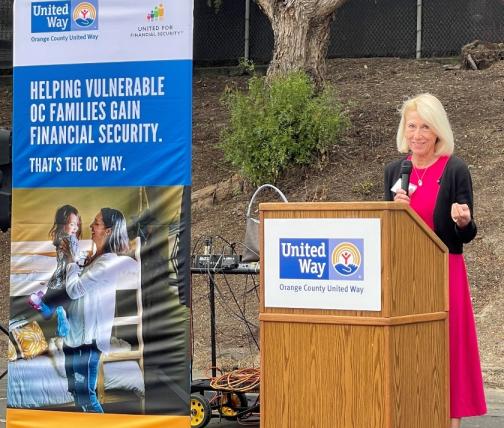 Team Blakespear presented Sue Parks (on right in photo), president and CEO of Orange County United Way, with a Senate certificate commemorating the opening of a SparkPoint OC financial empowerment center at Kinoshita Elementary School in San Juan Capistrano during a ribbon-cutting ceremony held at the school.
SparkPoint is a one-stop center to help hard-working, low-income residents gain free access to personal financial coaching and resources. One of United Way's key initiatives is financial security, and the Kinoshita Elementary School is the organization's seventh SparkPoint location in the county.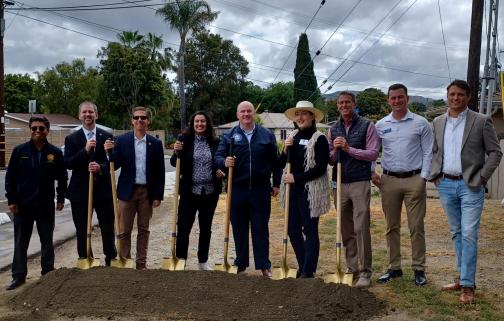 Team Blakespear joined the City of Vista and U.S. Rep. Mike Levin to celebrate the groundbreaking of the Townsite Complete Streets project, which will make improvements for pedestrian access, mobility and safety in the neighborhood. The project involves the construction of sidewalks in missing areas, bike lanes and bus shelters to protect residents from the elements while waiting for the bus. Along with Congressman Levin, the groundbreaking included Vista Mayor John Franklin and Vista City Councilmembers Corinna Contreras, Katie Melendez and Dan O'Donnell.

To learn more about what I am doing, follow me on social media.
Email me at Senator.Blakespear@Senate.ca.gov
Call my Encinitas district office at (760) 642-0809
Call my Laguna Hills district office at (949) 598-5850
Call my Capitol office in Sacramento at (916) 651-4038