Greetings!

With Thanksgiving next week, I'm feeling gratitude for the richness of my experiences in the past year and the cherished people I am blessed to have in my life.
One particular milestone that stands out from my first legislative year is that the four community enhancement projects I requested be included in the state budget were funded. The money will be used to improve lives in ways that wouldn't happen otherwise. As you will see in the photos below, two of these projects were ceremonially accepted last week. One of them is $5 million for a short-term, homeless-serving project based in Vista that will help the cities of Vista and Encinitas with shelter options for up to 48 people. The other project is funding for Age Well in Orange County to buy 6 hybrid transportation vans to take seniors who can't drive to medical appointments.
The other nearly $5 million was presented to the City of Encinitas to construct the Santa Fe Drive Corridor Improvement project and to the San Dieguito River Conservancy to build the Osuna Segment Bridge, a missing link in our precious Coast to Crest Trail that will go from Julian to Del Mar, when complete.
I'm grateful for many of you who supported me this last year, and some who have offered support over many years. I don't take that for granted. I'm grateful for my team of staff members that continues to encourage me, excite me, and motivate me to do my best work. I'm grateful for my husband, my children, my parents, my extended family, and friends who bring so much warmth to my everyday life.
May this Thanksgiving be a time of joy, reflection, and gratitude for each of you. I am deeply thankful for the privilege of serving you, and I look forward to continuing our work together for the betterment of our community.
Wishing you and your loved ones a Happy Thanksgiving filled with warmth and joy.
Together with Vista Mayor John Franklin (right) and Encinitas Mayor Tony Kranz (left), I stand in front of one of two buildings that offer 24 rooms for unhoused singles or couples!
I was thrilled to present a $5 million check to the City of Vista to provide interim supportive housing units for people experiencing homelessness in North San Diego County. The project will offer 24 non-congregate bedrooms. The project offers a shared kitchen and common area with a huge shaded patio with mature trees and plenty of good Vista weather. 
The $5 million is for the rehabilitation of the two buildings and the operations for three years! A core part of the operations is the Buena Creek Navigation Center, which will serve as a central resource to those in this program to connect the residents to the needed services and resources to escape homelessness once and for all. 
The City of Vista and the City of Encinitas partnered together and will jointly share the units to benefit residents of both communities. I applaud the cities for working together to be a part of an intercity solution to a complex policy problem. Under this partnership, the City of Vista is allocated 18 units and the City of Encinitas has six. 
Since homelessness is a regional and state problem, I am glad the two cities are collaborating on solutions. We need more cross-city collaboration when it comes to solving entrenched problems.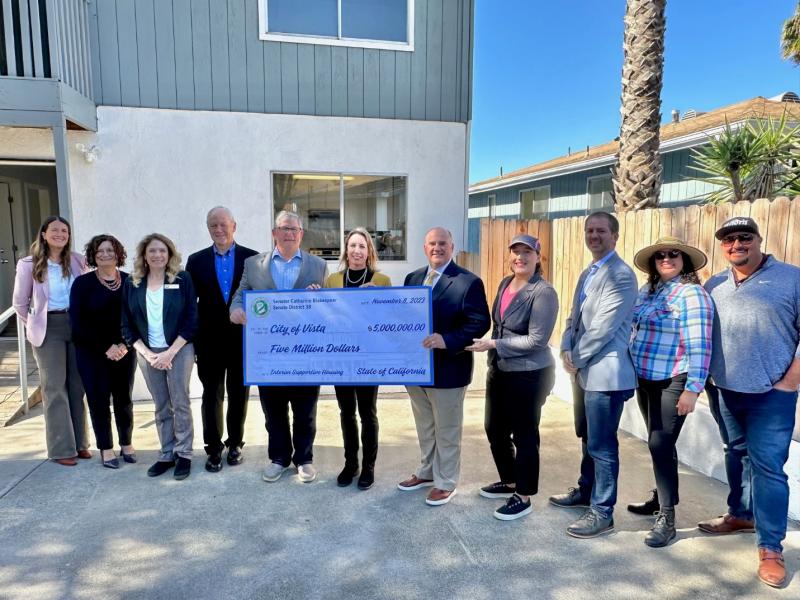 All the members of Vista and Encinitas City Councils attended the check presentation, held at the location of the new shelter (behind). From left to right are Encinitas City Councilmembers Kellie Hinze and Allison Blackwell, Encinitas Deputy Mayor Joy Lynes, Encinitas City Councilmember Bruce Ehlers, Encinitas Mayor Tony Kranz, myself, Vista Mayor John Franklin, Vista City Councilmembers Katie Melendez and Dan O'Donnell, Vista Deputy Mayor Corinna Contreras, and Vista City Councilmember Joe Green.
If you'd like to know more about homelessness, I hosted a Homeless 101 Workshop in Orange County in August and an Ending Homelessness Summit in Carlsbad in October. You can watch those events here.
Media Coverage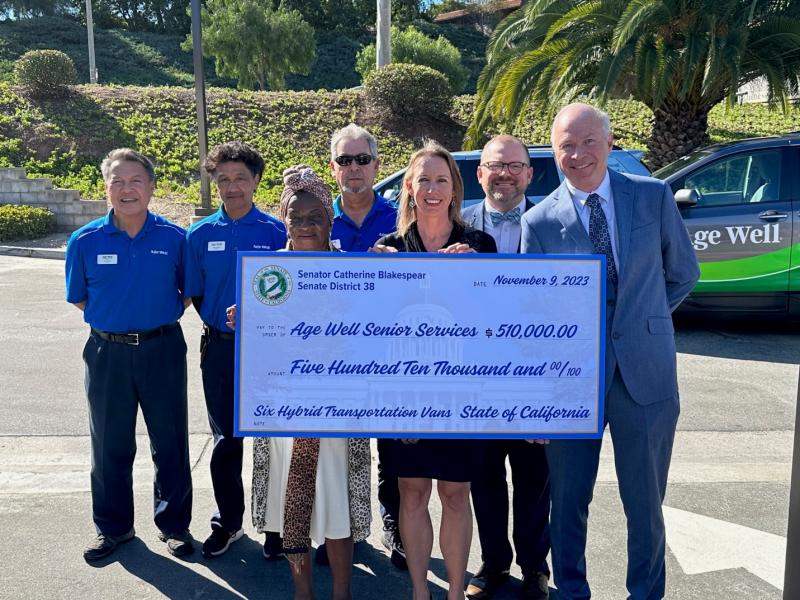 I presented the check to Steve Moyer, CEO of Age Well Senior Services, Inc. In the photo, left to right, are Age Well van drivers (in blue shirts) Leo Ibaniz, Carlos Vergara and Rudy Arroyo; van rider Vashti Williams (holding check); myself; Providence Mission Hospital Chief Executive Seth Teigen; and Moyer. 
I was also excited to present a $510,000 check to Age Well Senior Services, Inc., in Laguna Hills to procure six vehicles to provide non-emergency transportation services to medical appointments throughout Orange County to seniors who have mobility challenges. 
A nonprofit established in 1975, Age Well is focused on serving older adults and helping them maintain their vitality and independence. It operates a non-emergency medical transportation program that provides door-to-door service from the homes of seniors to medical appointments, including critical dialysis and cancer treatments. 
Age Well travels throughout Orange County and even as far away as the Long Beach Veterans Administration Hospital. In 2022, it provided 23,000 rides to seniors. The funding, which is part of the 2023-24 state budget, will replace six aging vans with new, more environmentally friendly hybrid models.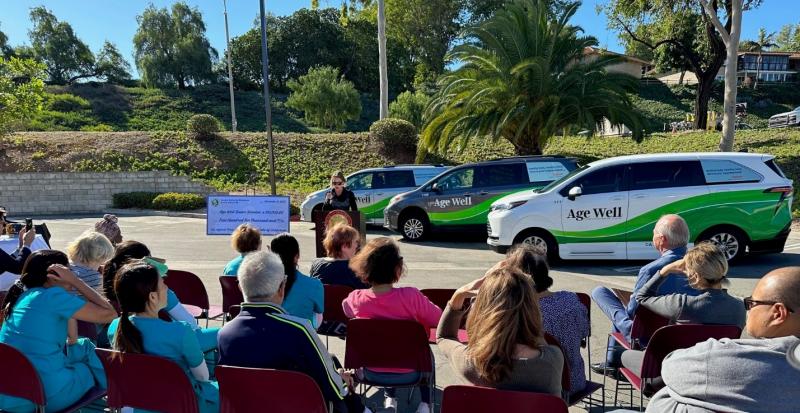 News of the funding was welcomed by senior citizens and health care professionals, who attended the announcement.
I know from my own personal experiences assisting my father just how important Age Well's services are. Getting reliable rides to the doctor is critical for seniors. That's why I was glad I could get this money added to the state budget.
Steve Moyer, CEO of Age Well, said the new vehicles are much needed.  
"This generous grant awarded to Age Well Senior Services, Inc. advocated by Senator Blakespear and approved by Governor Newsom for new hybrid vehicles, will pave the way for enhanced non-emergency medical transportation, ensuring our seniors have access to the care they deserve," Moyer said.  
Seth Teigen, chief executive of Providence Mission Hospital, which is the largest safety net hospital in South Orange County, said the van service is crucial to making sure seniors get the medical attention they need.  
"South County residents are fortunate to have a network of dedicated community partners like Senator Blakespear and Age Well that come together to address needs through innovative collaboration," Teigen said. "This program will ease the way for seniors and enable them to receive the preventative care that will help them thrive."
 
Media Coverage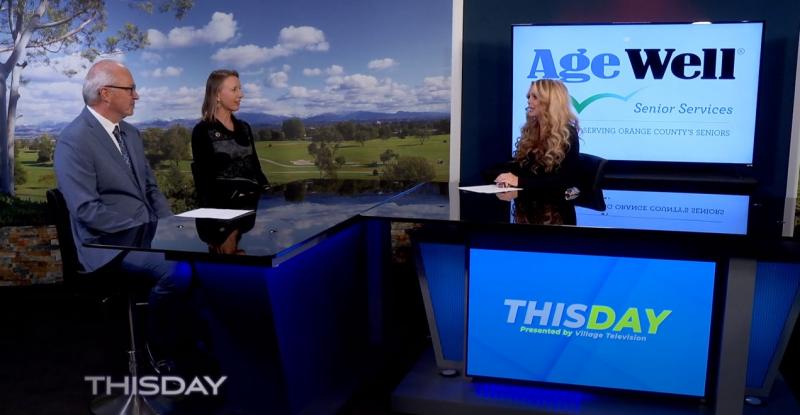 I enjoyed talking about the importance of Age Well's transportation services with Village Television Channel 6. To see the interview, click on the image. 
I know that many people are concerned about their rising homeowner insurance rates and the difficulty of even getting homeowner insurance in some areas of the state, including in San Diego and Orange counties. 
The recent increase in wildfires, climate risks and other actuarial considerations in California has prompted insurance providers to be more cautious about issuing new policies in areas at risk, or completely pause issuing new policies altogether. 
I have heard this problem loud and clear from constituents since the day I took office last December and immediately started looking into how I could help. 
In August, I held a town hall meeting in Laguna Niguel with Insurance Commissioner Ricardo Lara where hundreds of professionals and residents joined to share information about the state of the insurance market in Orange County.
I also participated with a working group of legislators in August and September trying to find solutions to the market problems. The Legislature reconvenes in January and I anticipate this topic being taken up again. 
Meanwhile, Commissioner Lara announced a package of executive actions on Sept. 21 aimed at improving insurance choices and protecting Californians from increasing climate threats while addressing the long-term sustainability of the nation's largest insurance market. 
Many of these reforms are not quick fixes and will take months to plan, implement, and execute. 
If you experience any issues with insurance in the meantime, please review the resources below that the California Department of Insurance makes available. 

General Questions - Hotline
People with general insurance-related questions should contact the Consumer Hotline number at 1-800-927-4357. In addition to the phone, consumers may participate in an online chat with Insurance Commission Hotline staff through the website: https://www.insurance.ca.gov/
Click on File a Complaint (under the picture of the Commissioner in the upper left corner), wait 5-10 seconds and the button "Consumer Live Chat" will appear. Click on that button and you will be connected with someone from the Commission's Consumer Hotline. 

Request for Assistance (RFA) 
For any insurance-related complaint (non-renewal, premium rate increase, claim issues) for any type of insurance (homeowners, auto, commercial, life, etc.), consumers can submit a Request for Assistance (RFA) to the Department of Insurance so the department can investigate. 
An RFA may be completed and submitted through the website at: https://cdiapps.insurance.ca.gov/CP/login/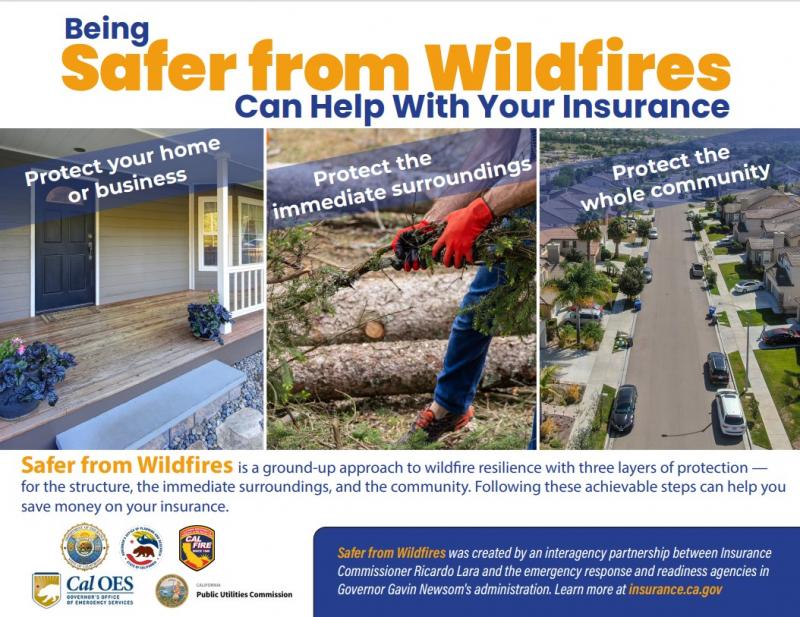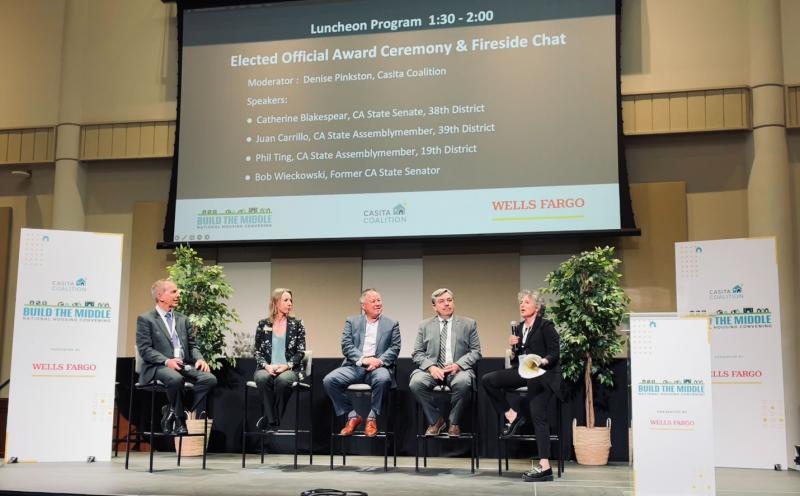 I participated in a panel discussion at Casita Coalition's "Build the Middle, A National Housing Convening" event. In the picture, left to right, are former Sen. Bob Wieckowski, myself, Assemblymember Phil Ting, Assemblymember Juan Carrillo and panel moderator Denise Pinkston, the Founder and President of the Casita Coalition.
One great way to boost the stock of affordable housing is with Accessory Dwelling Units (ADUs). I have long supported incentivizing homeowners and communities to utilize ADUs as a creative solution to address the lack of housing in our communities. 
An ADU is a secondary housing unit on a single-family residential lot, and they can come in all shapes in sizes. ADUs allow cities to sprinkle more housing in suburban neighborhoods without disturbing community character. 
During my time as Mayor of Encinitas, I supported state legislation that expanded opportunities for residents to permit their ADUs by allowing a local building official to permit an existing residential unit based on the date of construction.
This allows a homeowner with older, unpermitted ADU to use the building code from the year the unit was constructed to get a permit. 
I also worked to loosen regulations around size and setback requirements for ADUs, and to waive city fees. Encinitas established the Permit Ready Accessory Dwelling Units (PRADU) Program, which encourages the construction of ADUs by offering property owners pre-approved ADU building plans. This was one of the first programs like this in the state, and it was very successful. 
In Encinitas, this had a big impact. In 2021, 29 ADU permits were approved, and in 2022, nearly 100 were approved.
Statewide since 2019, the number of constructed ADUs has increased from 5,852 to 17,460. I think that's a great start!
This year, I supported legislation requiring local governments to create a program for the pre-approval of ADUs, just like we did in Encinitas. 
I look forward to continuing this work with my colleagues in the Legislature to create more homeownership opportunities, increase access to desirable neighborhoods and make the process of building ADUs more efficient.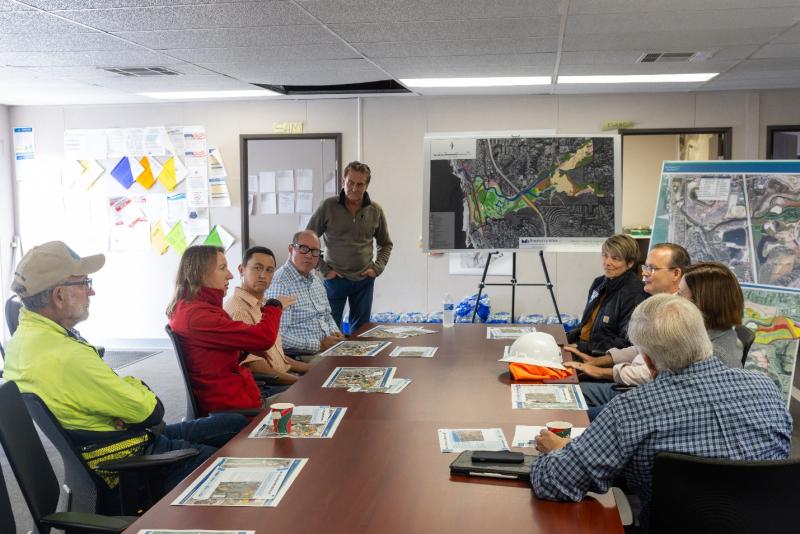 I'm joined in a briefing with officials from several local agencies. In the photo, left to right, are Del Mar City Councilmember Dwight Worden; myself; my District Representative Matt Rubel; Stephen Welborn, Public Affairs Manager for Caltrans District 11; Mike Furby, President of Marathon Construction; Shawna Anderson, Executive Director of the San Dieguito River Park JPA; Keith Greer, Environmental Compliance Manager for SANDAG; Kim Smith, Senior Regional Planner for SANDAG; and Allan Kosup, North Coast Corridor Director for Caltrans District 11.
The San Dieguito Lagoon Restoration Project encompasses roughly 154 acres and involves establishing tidal saltwater and brackish wetland systems connected to the San Dieguito River that will enhance the lagoon ecosystem and also, with additional trail systems, provide recreational access to the public. 
The $87 million project, which has taken more than 10 years, expands on past restoration projects and will help counter sea level rise and protect food sources for the wildlife that lives in, or uses, the lagoon. It is due to be completed by next spring. 
In all, the project, which involved moving 1.1 million cubic yards of earth, will create about 64 acres of tidal salt marsh, 15 acres of brackish wetland, 7 acres of restored/enhanced riparian habitat, 19 acres of transitional area and 62 acres of coastal sage scrub.
As a longtime advocate for the San Dieguito River Park, I was grateful to see what is being done. Thanks to Marathon Construction, Caltrans, SANDAG and the San Dieguito River Park Joint Powers Authority for making the tour possible! This is the same watershed where my state grant will help connect the Coast to Crest trail. It was great to see such progress on many fronts.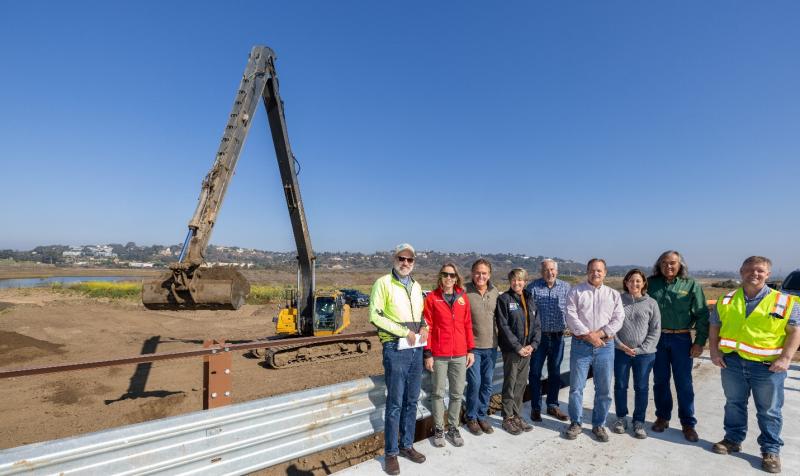 It was great to get a firsthand look at the construction! From left to right are Del Mar City Councilmember Dwight Worden; myself; Mike Furby, President of Marathon Construction; Shawna Anderson, Executive Director of the San Dieguito River Park JPA; Allan Kosup, North Coast Corridor Director for Caltrans District 11; Keith Greer, Environmental Compliance Manager for SANDAG; Kim Smith, Senior Regional Planner for SANDAG; Joe Ellis, Project Manager for Marathon Construction; and Jon Ruth, Chief Operations Officer for Marathon Construction.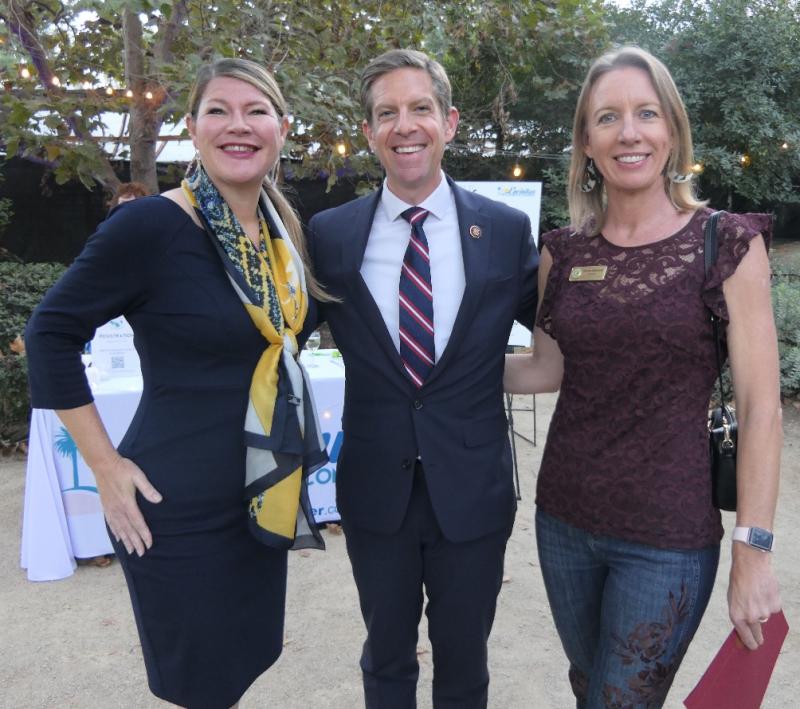 I joined Assemblymember Tasha Boerner Horvath (left) and U.S. Rep. Mike Levin (center) to talk with members of the Encinitas Chamber of Commerce at the first annual "Meet Your Elected Officials" event.
This holiday season, our consumption ramps up and that usually means our trash does, too! It's important to be mindful about our waste diversion goals and stick to a few rules when determining which can is appropriate for disposal. Our friends at Republic Services have this handy at-a-glance guide for what goes where.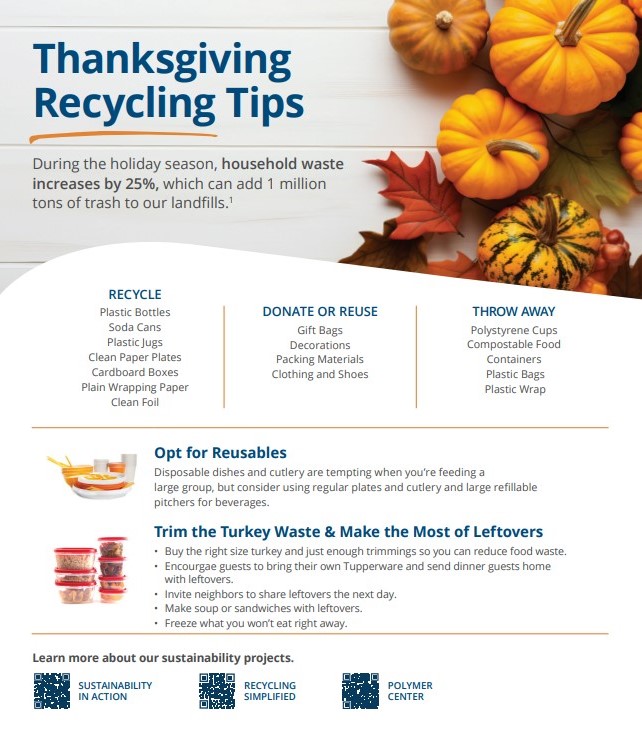 There is much great work being done on the public health side to help those who are addicted to Fentanyl get the assistance they need. At the same time, we cannot allow people to deal poison in our communities. That is why I am hosting an Addressing the Fentanyl Crisis Town Hall with Orange County District Attorney Todd Spitzer and Mission Viejo Mayor Brian Goodell on Nov. 30. Don't miss it! Sign up here.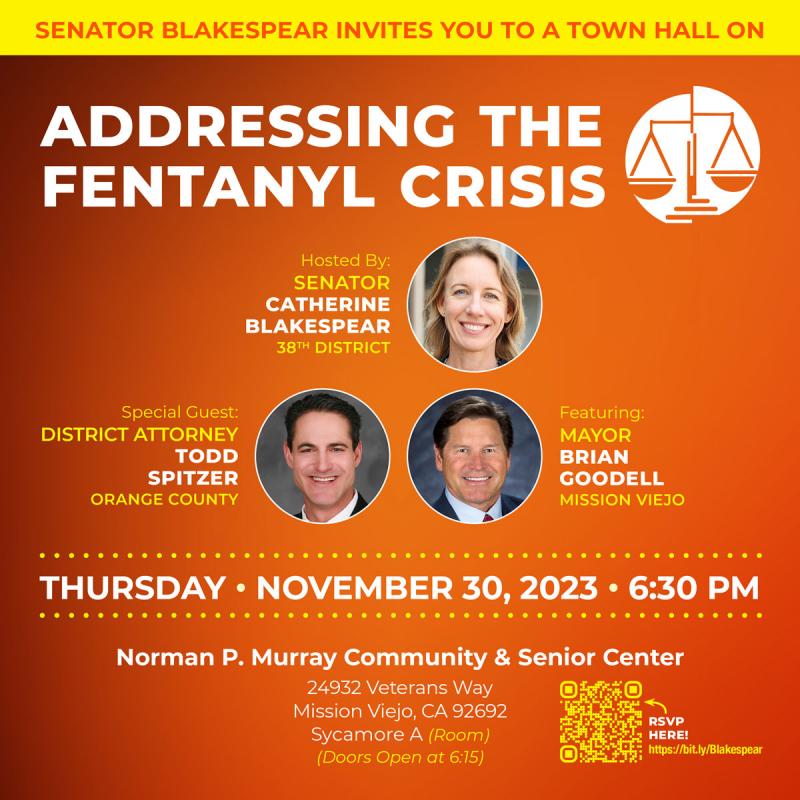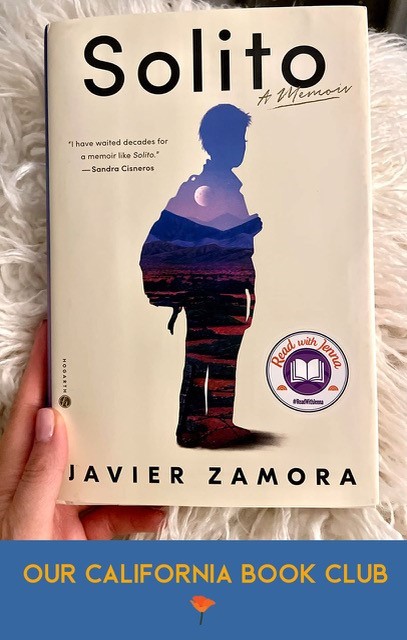 Last newsletter, I formally invited each of you to join me in the official 38th District Book Club that I'm calling Our California! I'm so glad to have received such a warm reception to it, and I can't wait to get started. Originally, we had identified January 6th as our first date, but that unfortunately will no longer work. As such, I'd like to ask you to please join me on January 13th at 11 a.m. More information on how to join the virtual book club will be sent out closer to the date so make sure you've signed up here with a good email address to receive the information.
In partnership,

To learn more about what I am doing, follow me on social media.
Email me at Senator.Blakespear@Senate.ca.gov
Call my Encinitas district office at (760) 642-0809
Call my Laguna Hills district office at (949) 598-5850
Call my Capitol office in Sacramento at (916) 651-4038