Newsletter
News from Senator Blakespear - August 2023 - Issue 2
Greetings!
I hope you enjoyed the steady, life-giving rain earlier this week. At my home in Encinitas we got 2.2 inches, and in a typical August the city gets only .12 inches. This was a summer blessing for our plants!
While it turned out that Tropical Storm Hilary didn't deliver the devastation that we feared, I was grateful that the state and local emergency response had been fully activated into high gear to keep everyone safe. With people staying home and staying off the roads, ambulances and fire trucks could get to emergencies faster. The light traffic undoubtedly decreased the number of car accidents that inevitably spike during rain. Over-preparation is preferable to under-preparation, as we know from watching the catastrophe in Lahaina, Maui.
In the Legislature, we are down to the final three weeks of this year's session and the scramble is on to pass bills before the deadline.
We have until Sept. 14 to get our work done and Gov. Newsom has until Oct. 14 to decide on whether to sign or veto the bills sent to him.
Seeing the process up close in my first year as your state Senator has been fascinating. As we come down to the wire, many important policy questions remain to be determined, including several bills regarding housing and homelessness.
Look for more information on how it all turned out in future newsletters. Thank you for your feedback, your bill ideas, and your engagement. Keep it coming!
In partnership,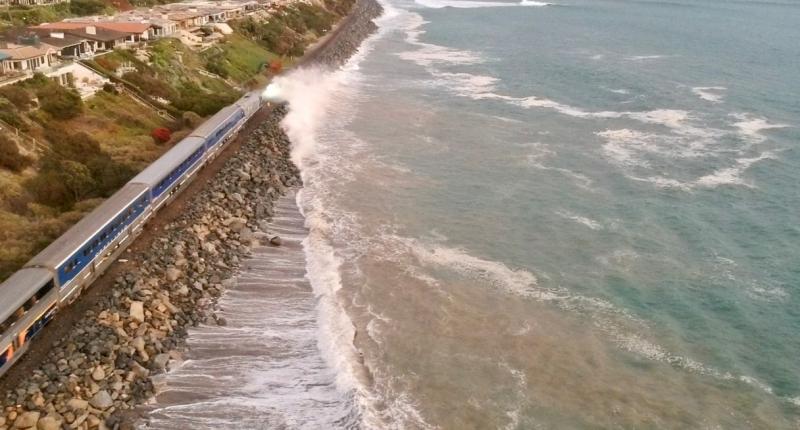 Sea-level rise and coastal erosion present problems for the LOSSAN rail line, as this photo of the track in San Clemente shows. Photo courtesy of LOSSAN Rail Corridor Agency.
I was happy to hold the second hearing of the Senate Transportation Subcommittee on LOSSAN Rail Corridor Resiliency on Aug. 15. We covered a lot of ground and you can watch the entire hearing on the Senate website by going to the Media Archive page, scrolling down to 8/15/2023 and clicking on the link after the name of the subcommittee.
The takeaway is we need to plan for the entire corridor holistically, strategically considering which areas to focus on in the short term and which areas have the potential to grow ridership the most in the long term. There has been $27.7 million of work done in Orange County within the last two years to stabilize track at Cyprus Shore and in San Clemente – which are short-term solutions. Long-term solution will undoubtedly be very costly.
I look forward to holding the next hearing of this committee this fall in San Diego so all subcommittee members can experience the rail line firsthand and understand what critical issues it is confronting.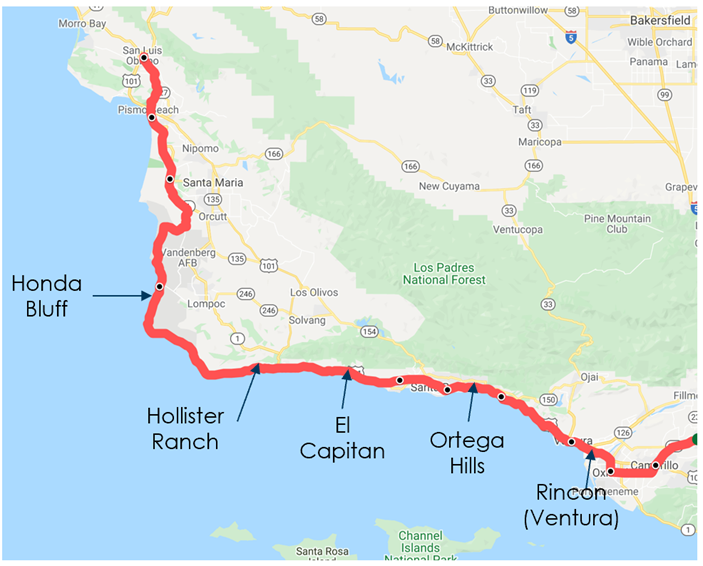 All parts of the corridor are at risk. In addition to threats from coastal erosion in Southern California, the section north of Los Angeles County has several areas in danger, too, as this map from CalSTA shows.
Dr. Julie Kalansky, of the Scripps Institution of Oceanography, testified about the impending threats of climate change, sea-level rise, atmospheric rivers and more to the rail line. Kalansky said droughts, extreme precipitation, and sea-level rise are all expected to increase steadily in the next 50 years, creating more coast and soil erosion.
Last month, I took the first week of summer recess to fly to Washington, D.C., to make sure our federal agencies and partners knew about the work of this subcommittee and continue advocating for our coastal rail corridor to be a priority at the federal level.
I had meetings with the White House, much of the San Diego and Orange County congressional delegation, U.S. Senator Alex Padilla, Senator Feinstein's staff, the Northeast Corridor Commission, the Department of Defense's TRANSCOM, and more. Senator Padilla even brought up the corridor in a budget hearing a week later.
Overall, I had a receptive audience. Many there know the value of LOSSAN and how it serves as a vital regional, interregional, state, national, and international asset.
They also know that this line cannot fulfill its purpose, cannot continue to be a crucial transportation link for the military, an economic artery for the Southern California mega-region, and a large scale mobility option without attention and investment.
One of the biggest takeaways is that we have so much support from federal agencies, and federal partners are standing by to help take this corridor to the next level.
One of the best meetings was with the Executive Director and Deputy Director of the Northeast Corridor Commission, which is the convening agency of all stakeholders to the northeast corridor. They can serve as a model for us.
We have 20 million people that live adjacent to this rail line and so much opportunity to make it an obvious mode of transportation in Southern California.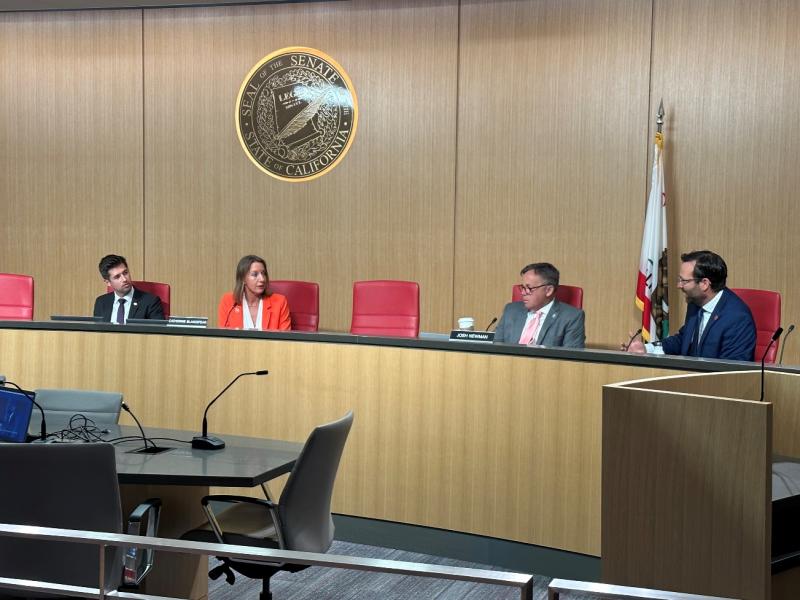 Committee members include Sen. Josh Newman (3rd from left) and Sen. Ben Allen (far right). Not pictured are committee members Sens. Monique Limón, Janet Nguyen and Thomas Umberg, who all attended the meeting. My District Director Jack Christensen is to my left.
At the next few hearings, we plan on talking about what we can do legislatively to make this corridor more successful. We'll be asking if we're set up to succeed organizationally or if we have the appropriate authorities or streamlining in place.
MEDIA COVERAGE
Sacramento Snapshot: Stabilizing key rail line at top of legislators' agendas as they return
"We're really not doing effective strategic planning for the whole corridor," said Sen. Catherine Blakespear, D-Encinitas, the subcommittee chair.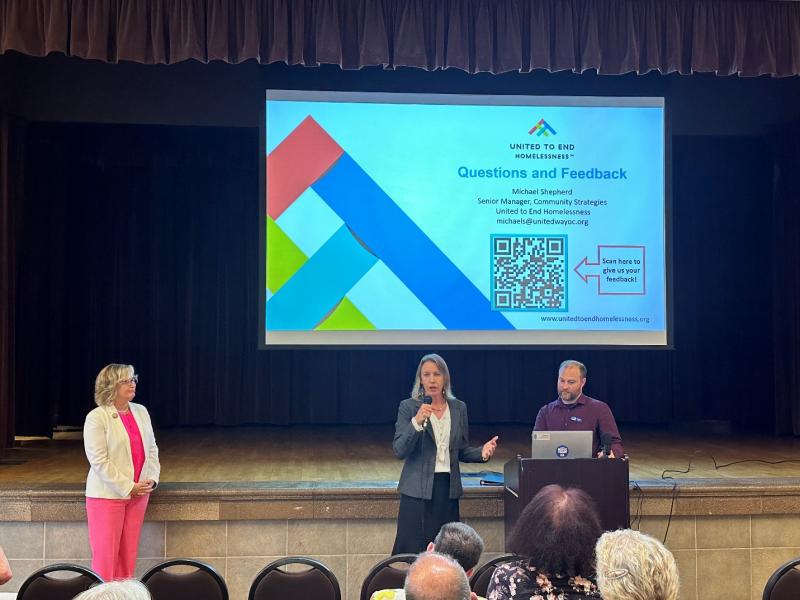 Orange County Supervisor Katrina Foley (left), myself and Orange County United Way's Michael Shepherd (right) answered questions from the audience.
I was delighted to co-host with Orange County United Way a "Homelessness 101 Workshop" in Laguna Hills on Aug. 10. We had great turnout for this two-hour event that offered an informative presentation from Michael Shepherd, senior manager of community strategies for OC United Way, and a question-and-answer session with attendees.
This was the first of several workshops focused on homelessness I plan to hold throughout my district. We'll have another one this fall in San Diego County.
A common myth is that California's large homeless population comes from other states. But studies indicate that 90 percent of people who are unhoused in California were living in the state prior to losing housing and that 75 percent are in the county they last had housing.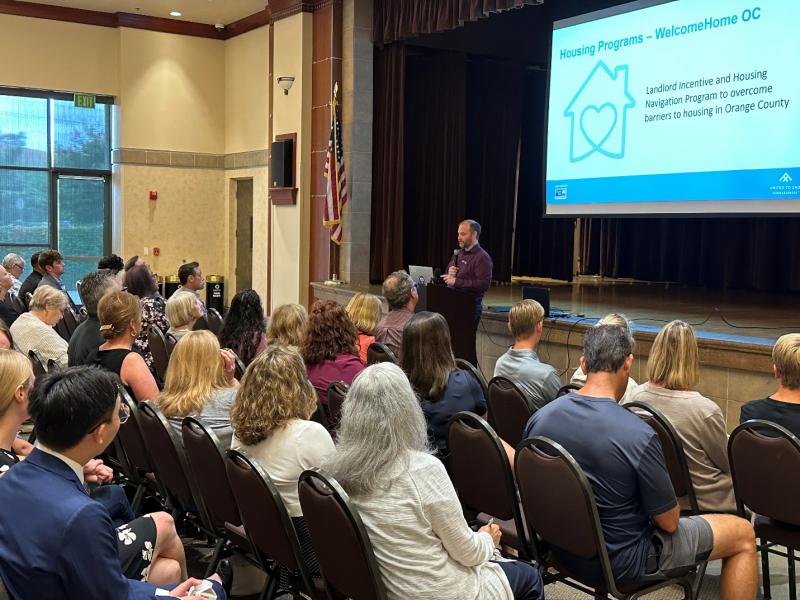 Orange County United Way's Michael Shepherd gave a presentation on the state of homelessness in the county.
In 2022, Orange County had 5,718 people counted as homeless, with 3,057 unsheltered and 2,661 sheltered.
A primary cause of homelessness is a lack of affordable housing, Shepherd said. From 2000-2019, the median rent in California increased 35 percent while the median renters' income only increased 6 percent.
Also important to note, homelessness has many different appearances. There are young people attending Saddleback or MiraCosta College who are working hard to secure a bright future, but live in their car. Some of our seniors are struggling to pay their bills and are forced to live with friends or family. We must collectively agree that addressing homelessness requires compassion and helping our most vulnerable secure safe and affordable housing.
You can learn more about homelessness in Orange County, and resources to help those who are unhoused, at the OC United Way's website.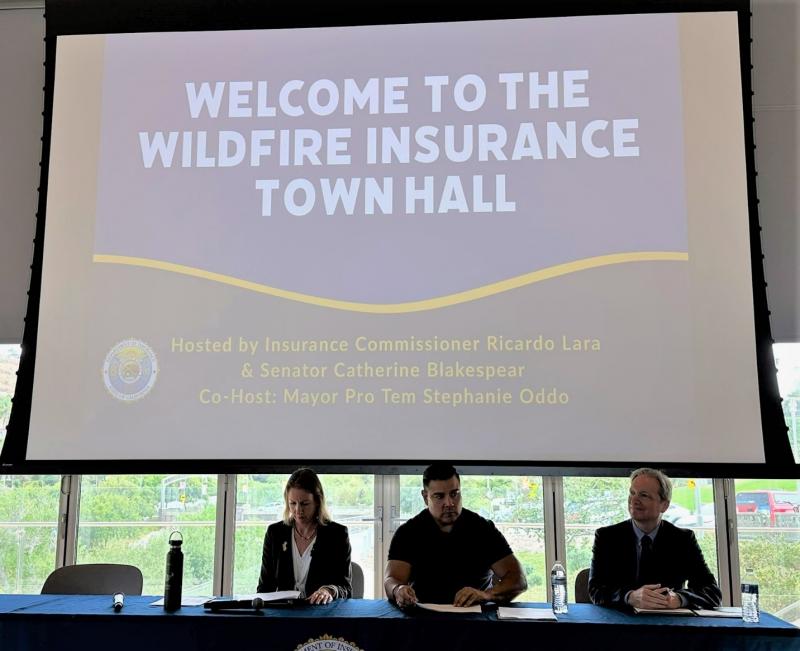 At the front table for the town hall were myself, California Insurance Commissioner Ricardo Lara (center) and his Deputy Commissioner for Consumer Services and Market Conduct, Tony Cignarale.
I was happy to invite California Insurance Commissioner Ricardo Lara to co-host a Wildfire Insurance Town Hall meeting with me on Aug. 10 in Laguna Niguel given the many concerned constituent calls about their insurance policies in the district. Also, a big thank you to Laguna Niguel Mayor Pro Tem Stephanie Oddo for being there to help host, too.
We wanted to provide information on things homeowners can do to reduce the fire risk to their properties and help lower their insurance premiums.
I am grateful to Commissioner Lara and his Deputy Commissioner for Consumer Services and Market Conduct, Tony Cignarale, for talking in detail about what the California Department of Insurance (CDI) is doing for constituents and for answering detailed questions from those who attended. The CDI team also scheduled individual appointments with homeowners who wanted them.
The problem is insurance companies have ended coverage for thousands of California homeowners in high-risk areas, after the state experienced a series of destructive fires in 2017 and 2018. That has forced many of them to buy policies through the California FAIR Plan, which is the state's insurer of last resort and generally costs more.
The number of FAIR Plan policies in Orange County has gone from 2,500 in 2017 to 4,600 in 2021, Lara said. That illustrates the trouble many homeowners are having in getting coverage through the private markets.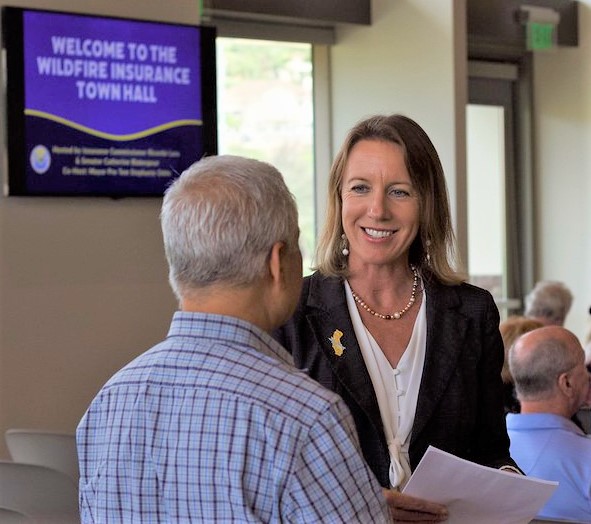 I enjoyed talking with homeowners, realtors, insurance brokers, lawyers and many concerned citizens at the event.
I've heard many stories from homeowners in my district about their insurance costs rising hundreds of dollars a month. This is pushing up the cost of homes and making a tight real estate market even tighter.
I was glad to hear Lara talk about the Safer From Wildfires initiative his office has undertaken. It involves a 10-step plan to reduce wildfire risk and help qualify homeowners for insurance discounts. It includes installing ember and fire-resistant vents, enclosed eaves and a fire-rated roof. It also calls for upgrading windows to be multi-paneled and clearing vegetation, weeds and debris from under decks.
Lara and his team answered many questions from the audience. You can watch the entire town hall meeting here.
Meanwhile, in the final weeks of this year's legislative session, state lawmakers are considering a legislative deal that would allow insurance rates to rise in an effort to make the state more attractive to insurers and prevent more of them from leaving. There are a lot of things moving when it comes to managing the insurance industry statewide so stay tuned for more updates about this topic.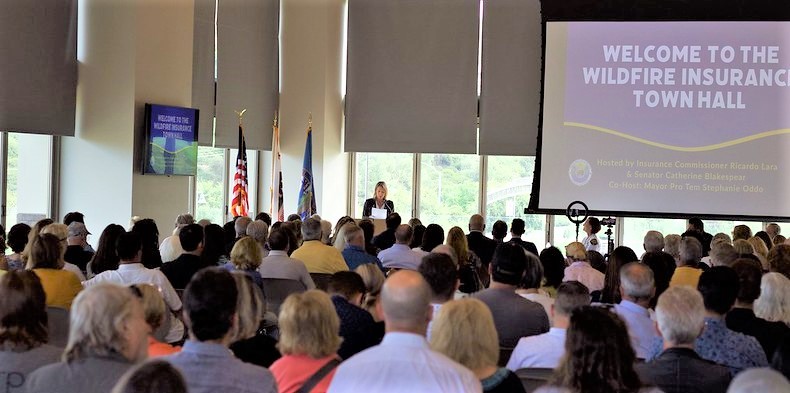 Hundreds attended the Wildfire Insurance Town Hall in Laguna Niguel.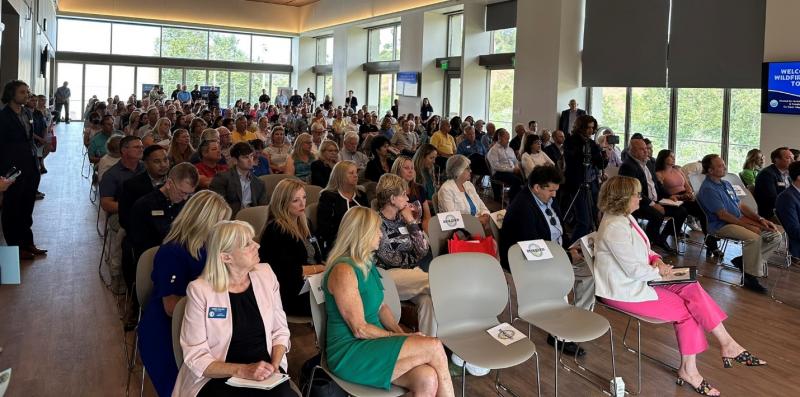 MEDIA COVERAGE
OC residents can qualify for fire insurance discounts, state commissioner says
Blakespear said that since she's been elected to the state Senate, her office has received nonstop communication about the concern of insurance costs going sky-high. Premiums have been going up by hundreds of dollars a month, she said.
"Yesterday I had a meeting with a realtor who said he's had two deals fall out of escrow because they couldn't get insurance," she said. "The buyer was qualified and then was told, 'you're going to have close to $1,000 additionally for your insurance policy alone,' and somebody who's not expecting to be paying that amount is just unprepared."
Other Stories in the News
Age Well OC Receives $500K in State Budget Funds for Transportation Services
The state funds will help Age Well in its mission to "support independence and dignity of South Orange County seniors," said Steve Moyer, chief executive officer of Age Well Senior Services, Inc.
Moyer added that "Sen. Blakespear, who made this happen, is really incredible, just a godsend for us to receive something of this magnitude."
Del Mar city and fairgrounds officials try to finalize deal for affordable housing ahead of 2024 deadline
"If we do have this critical housing shortage, what is the solution for it? It's not to sprawl out into the backcountry," Blakespear said. "It's to have this gentle density, to sprinkle in additional housing in a way that's acceptable."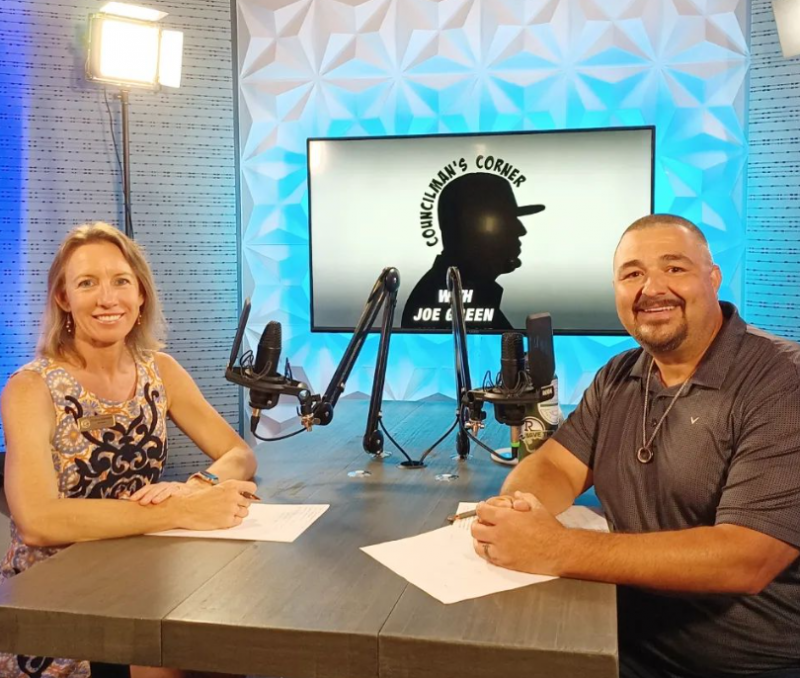 Joe Green is so fun – I really enjoyed talking with him!
I had a great time sitting down with Vista City Councilman Joe Green on his Councilman's Corner podcast to discuss my priorities in the State Senate and all the work I'm doing for the City of Vista. You can watch the podcast here .
Grant Writing Webinar in October
If you or your organization would like to learn about grant writing, and how to do it effectively, here's your chance. I am hosting a free, one-hour webinar on how to write grant applications to state and local governments. This will be offered via Zoom. Please use the link below, if you would like to sign up.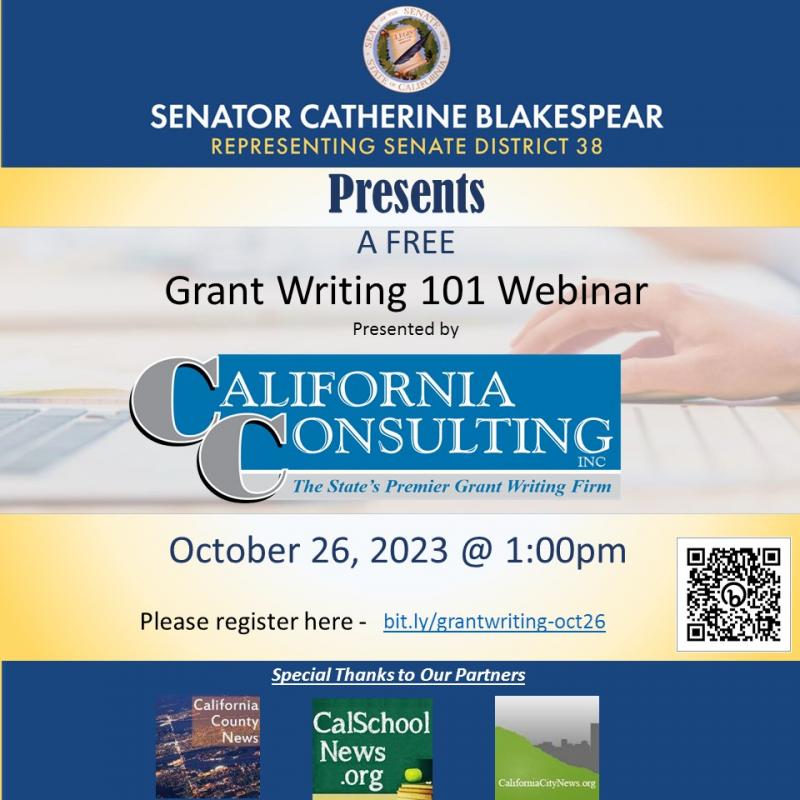 Do you think there should be a law about something? I really appreciated the breadth of ideas that were emailed into my office after the previous newsletter. Please keep the ideas coming! I want to hear from you! Click on the button below and follow the directions to provide your suggestion.
To learn more about what I am doing, follow me on social media.
Email me at Senator.Blakespear@Senate.ca.gov
Call my Encinitas district office at (760) 642-0809
Call my Laguna Hills district office at (949) 598-5850
Call my Capitol office in Sacramento at (916) 651-4038