Newsletter
News From Senator Blakespear - August 2023
Greetings!

I hope your summer is going really well for you!
As a new legislator I was honored to be invited to an interview on the podcast "Then There's California." We discussed current issues in the state, and my experiences in the first eight months as a legislator.
The interviewer, Brian Green, had brought with him the photo I'm holding of me as an 11-year-old wearing a judge's robe and holding a gavel while I presided over a courtroom. My mom, who as an attorney would sometimes sit as a temporary judge, had invited me to watch her in action and after the day's hearings invited me to take a turn myself. I may have not realized it at the time, but this was a prescient moment in my childhood that set me on my path to my legal career.
One of my mom's favorite quotes is, "There's always room at the top for the best." I am forever grateful to my mother, who served as a role model to me and encouraged me to take on challenges and from a very early age to step into leadership roles.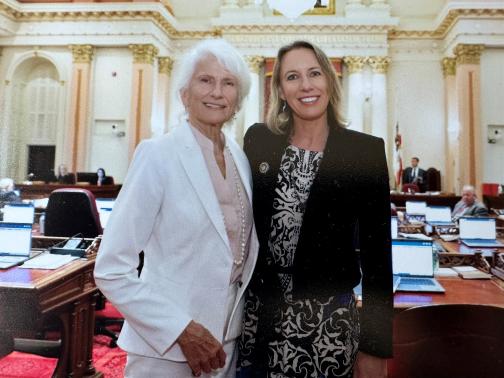 As an added bonus, my mom Tricia was in Sacramento when this episode was taped, shadowing me as a state legislator. In the above photo she had joined me on the floor of the Senate for the day's votes.
You can go here to download the podcast and listen to it. Or, go here to see a short video of me on Instagram talking about my 11-year-old experience.
Thank you again for your interest. Please read on for more important information and future happenings!

As always, I welcome your input.

In partnership,

his week I'm hosting a workshop about homelessness in Orange County that will be presented by Orange County's United Way. The workshop will focus on the causes of homelessness, the state of homelessness in Orange County, existing resources for people at risk of becoming homeless or who are unsheltered and ways to solve the problem. It will be held at the Laguna Hills Community Center on Thursday. It's not too late to RSVP. Use the QR code below or at this link.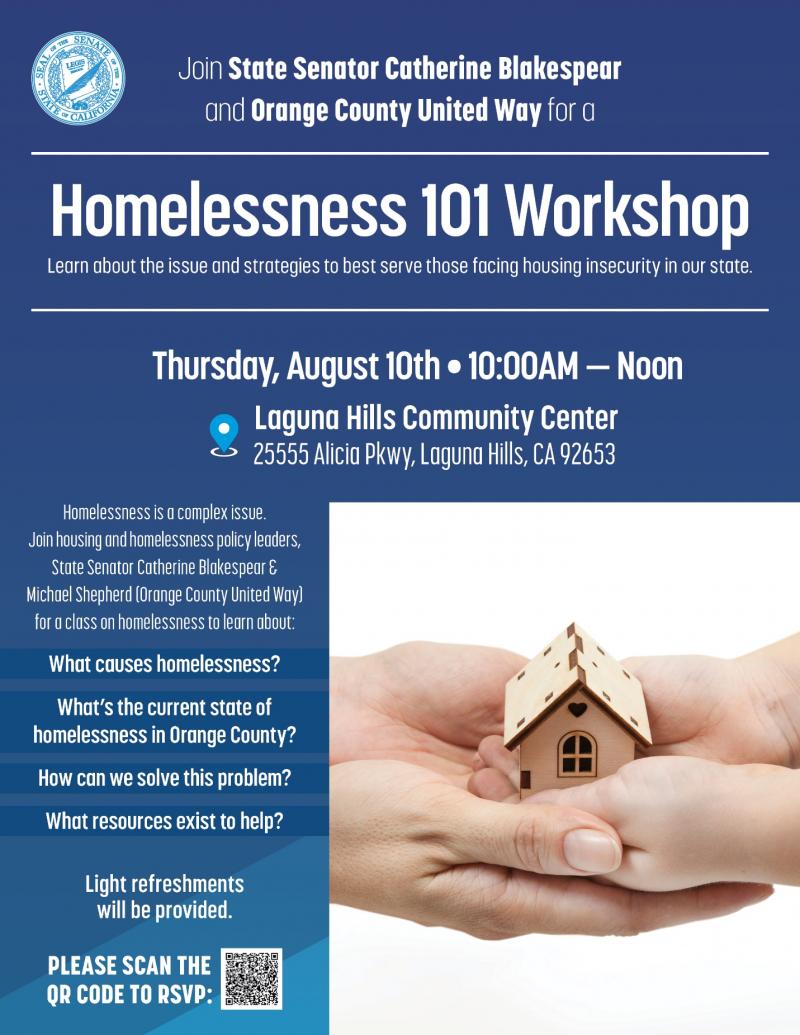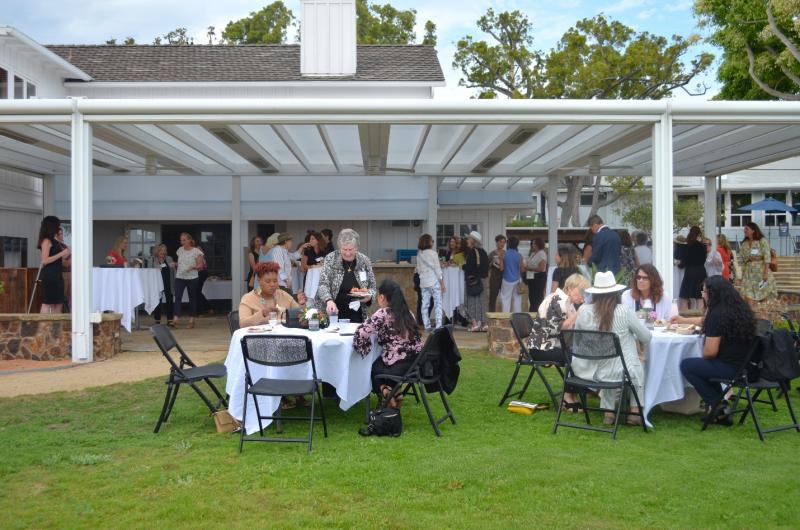 What a lovely afternoon to honor women leaders of Senate District 38 at the Hive at Leichtag Commons Farm House in Encinitas!
I held an event to celebrate the women leaders of Senate District 38 because it is important to me to highlight, and support, the many fine women who are making a difference in our district.
Women's lived experience is different from men's, and it is vital that our voices and perspective are represented at all levels of power, both in government and outside of government.
As the Notorious Ruth Bader Ginsberg said: "Women belong in all places where decisions are being made." Women should be making decisions in at least equal numbers as men at the highest levels in government, and in corporate and non-profit board rooms across this state and country.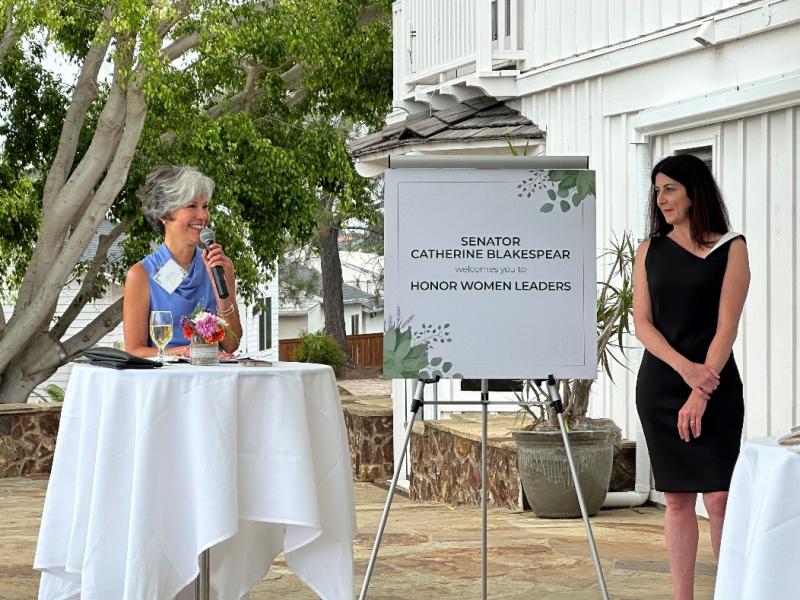 Rosette Garcia (left), president of the League of Women Voters North County San Diego, and Heather Resetarits (right), my chief of staff, welcomed women to the event on July 31 and talked about their accomplishments. The League of Women Voters is a tremendous resource empowering all of us to participate in our democracy in an informed and reasoned way.
As a state legislator, every year I have the privilege to select a Woman of the Year from my district to honor. That was no easy task, because I had so many outstanding nominations to choose from.
You can read more about the Senate District 38 Woman of the Year nominees for 2023 and the winner Jennifer Ianoale, on my Women Making Herstory web page. They, and their work, are incredibly inspiring to me. At this event, we also invited the women elected officials from the 38th District to expand and deepen the connections between and among women leaders from different sectors.
As a local elected official for eight years before the State Senate, I saw my work as a city councilmember and mayor as including helping those who would come after me – just as those who came before me had helped me too – as well as serving as an example for others to follow.
Women's stories matter. Women's lives matter. And women's representation in positions of leadership matters!
That's why I am proud that the California State Legislature this year has a record number of women elected to the Senate and the Assembly – 50. There are 120 elected members of the state Legislature, so we are closing in on gender equity there, which is possible in 2026.
I thank you for your support, and I thank women everywhere who continue to help us change this country – and the decision-making at all levels – for the better.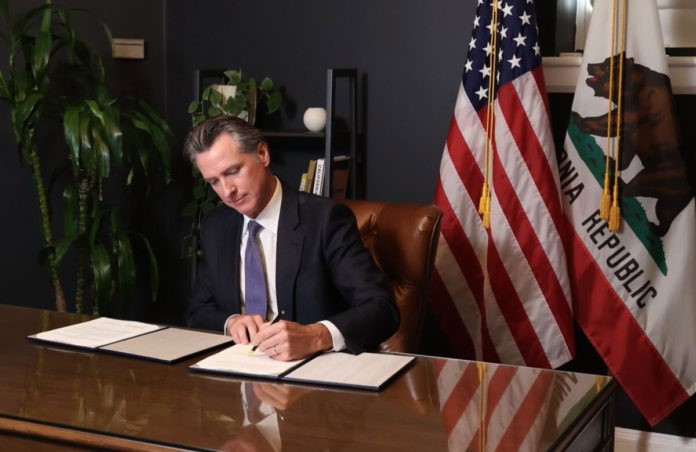 Gov. Gavin Newsom signs legislation.
I'm excited to report that while several of my bills are still moving through the legislative process, one has already made it all the way through and received Gov. Gavin Newsom's signature.
SB 360 broadens the local agencies that a member of the Coastal Commission can jointly serve on to include a Local Agency Formation Commission (LAFCO) or a Joint Powers Authority (JPA).
This will now take effect as a new law on Jan. 1, 2024!
This is a good government bill. By allowing elected officials to use their knowledge and experience for both the Coastal Commission and a LAFCO or JPA, everyone benefits.
The way it is now, members of the Coastal Commission may serve concurrently on other government bodies, such as regional associations of governments. However, under current law, they are not statutorily allowed to serve concurrently on a LAFCO or JPA.
That makes little sense.
The statewide coastal resource protection policies of the Coastal Act are implemented by coastal cities and counties through the preparation and certification of Local Coastal Programs (LCPs), which function like mini-General Plans for the coastal zone.
Once certified by the Coastal Commission, LCPs become the standard of review for coastal development permits issued by the local government. Thus, implementation of the Coastal Act is centered on the partnership between coastal local governments and the Coastal Commission.
Half of the 12 appointed commissioners must be locally elected officials appointed from specified regions, a provision that ensures that locally specific knowledge is considered in Commission decisions along with the statewide policies of the Coastal Act.
Finding officials to serve can be difficult in some counties that have a limited number of officials with the necessary expertise. Currently, a member of a LAFCO or JPA must resign from their position in order to accept an appointment to the Coastal Commission.
Thankfully, SB 360 eliminates this unnecessary restriction.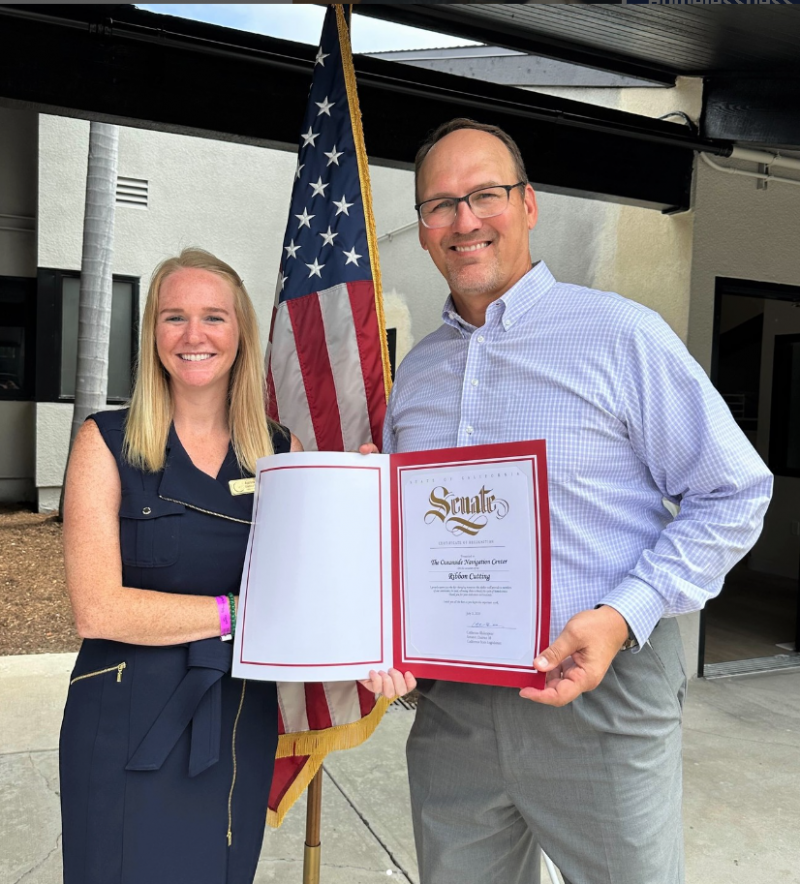 Aurora Livingston (left) works out of my Encinitas District Office helping constituents. Here she is presenting a certificate of recognition to Donnie Dee, president and CEO of the San Diego Rescue Mission, for the opening of the new Oceanside Navigation Center in July.
Every day, my district offices get calls from constituents like you who need help with a state government issue. Thankfully, I have a dedicated staff that is working to serve you and help resolve any problem you may have.
Recently, a constituent contacted my Encinitas District Office with a tax refund problem. The ATM card to access the refund was more than 6 months late arriving from the Franchise Tax Board, and then the constituent couldn't activate the card, as instructed.
Within a day of my office inquiring about this issue, the matter was resolved.
"I apologize for not getting back to you. I had every intention of sending you a Thank you note, however, time got away from me," the constituent wrote my office. "Thank you again for your assistance. I'm really impressed with you and your entire office."
I am glad we could help. As always, my staff and I are here to serve you! If you have a state government issue, please contact me at Senator.Blakespear@senate.ca.gov.
Touring BioLife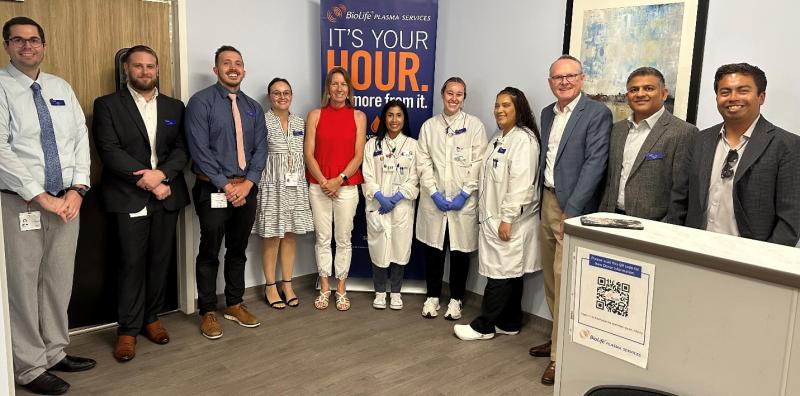 I was delighted to tour the BioLife center in Vista and get a firsthand look at the good work they are doing!
Last week I met with representatives from Takeda and BioLife to learn about the rollout of their plasma donation centers and their role in acquiring greatly needed plasma to develop life-saving medicine.
Plasma is needed in great volume to produce medicines for rare diseases, such as hemophilia and primary immune deficiency. These centers create a critical infrastructure to process donated plasma and move it to areas where it is needed the most. I am committed to supporting policies that help facilitate the work of our industries looking at developing life-saving treatments.
Donating plasma takes about 40 minutes, and for two sessions in one week a participant can earn about $110. The plasma is extracted from the blood and the blood returned to the patient, together with a saline solution that leaves the patient feeling healthy and hydrated. If you want to learn more about what they do here's the link. Plasma Donation in Vista, CA | BioLife Plasma Services

Meeting with Local Officials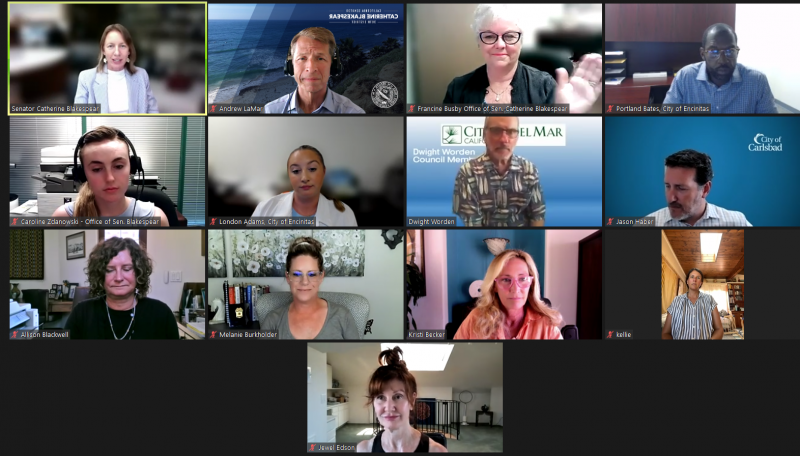 Here's the screenshot from a Zoom meeting I held with local officials
I recently met with city officials from Carlsbad, Del Mar, Encinitas and Solana Beach to update them on my legislation and talk about the issues they are confronting (above). We discussed affordable housing, homelessness, how to support rail and other issues we're all concerned about.
I also met with mayors and city council members from the Orange County cities of Aliso, Lake Forest and Mission Viejo (below). Topics covered included homelessness, crime, economic redevelopment, fire insurance and the need for more local control. Thanks for the dialogue!
I always welcome feedback from constituents and from officials across my district! If you don't see me at an event, you can always email me at Senator.Blakespear@Senate.ca.gov.
Making Sure There is Access to Childcare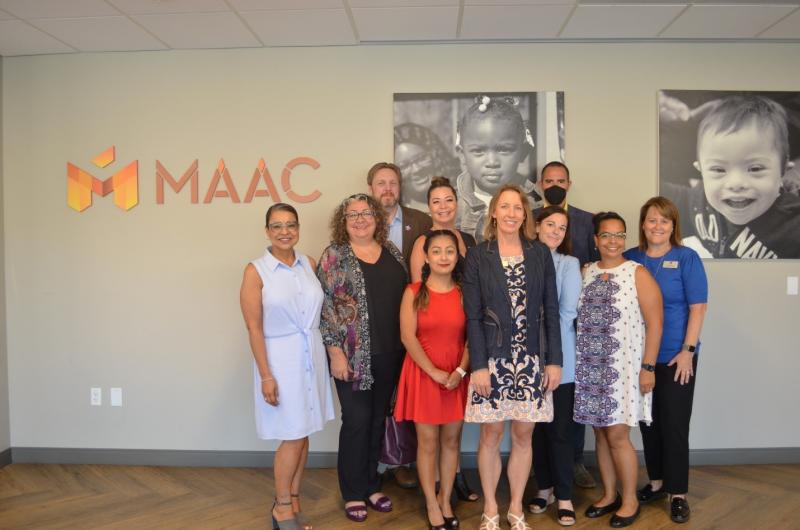 Here I am at the MAAC North Campus in Vista, where I talked with leaders of the Children First Collective San Diego.
I got a firsthand look at childcare and discussed some of the obstacles to gaining access to affordable childcare in a recent visit to MAAC North Campus. I meeting with representatives of the Children First Collective of San Diego.
San Diego County is making progress with the Child Care Blueprint that addresses the need for increased affordability, quality facilities and reimbursement for providers. Making sure families of all income levels have access to quality childcare is crucial and something I support and will continue to work for.
Do you think there should be a law about something? I really appreciated the breadth of ideas that were emailed into my office after the previous newsletter. Please keep the ideas coming! I want to hear from you! Click on the button below and follow the directions to provide your suggestion.
To learn more about what I am doing, follow me on social media.
Email me at Senator.Blakespear@Senate.ca.gov
Call my Encinitas district office at (760) 642-0809
Call my Laguna Hills district office at (949) 598-5850
Call my Capitol office in Sacramento at (916) 651-4038