Newsletter
News from Senator Blakespear
Dear Friend,
As we begin Memorial Day weekend, I hope you are able to both enjoy this long weekend and take a moment to honor the many who have died fighting to protect this great nation. I routinely feel awash in gratitude for our country, and the civic structure that allows us to pursue our highest human ideals in our continual effort to create a "more perfect union."
Memorial Day is a solemn remembrance for many, and it's worth reflecting on the fact that over 1 million Americans have died since the Civil War in military service to protect our nation. We owe our gratitude to them, and their loved ones.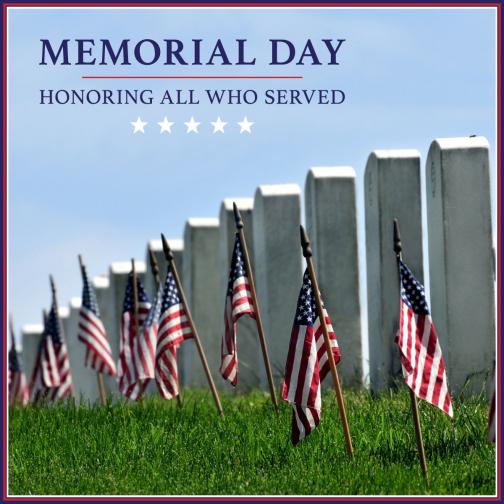 In Sacramento, we are currently voting on a large number of bills every day. About 400 bills have been generated by the California State Senate alone. For many bills on the Senate floor there is a short statement from the author and then a roll call vote, with each one of the 40 members saying "aye" or "no" or just staying silent, which counts as a "no." Other bills generate floor speeches, with passionate encouragement to vote for or against a bill. I'm spending a large amount of my time in preparation for these votes, reading the bills, understanding which organizations are supportive and opposed, and talking with my colleagues and my staff.
Even small bills that seem to have limited scope can make an important difference in a discreet area. For example, a somewhat technical bill of mine (SB 482) essentially cuts a bit of red tape by allowing homeless serving housing projects to have access to a funding stream earlier in the process, which reduces cost and redundant work. The Senate passed this bill on Thursday.
Unfortunately, my most ambitious homeless-related bill will not move forward this year. SB 7 would have required cities to provide the homeless residents who live in their cities access to housing opportunities. This bill came with a big price tag, because I believe when we mandate local governments do something, we should provide them the resources to do it. In a challenging budget year, that was a tough sell. I will continue to work to advance the idea, and the bill, next year. I'm committed to working on preventing and eliminating homelessness, and particularly street homelessness. This is a major statewide issue.
There are a lot of good things in the newsletter below and I hope you read on! Thank you again for your interest. I am honored to be your state senator and am committed to serving you!
In partnership,

LOSSAN Subcommittee Hearing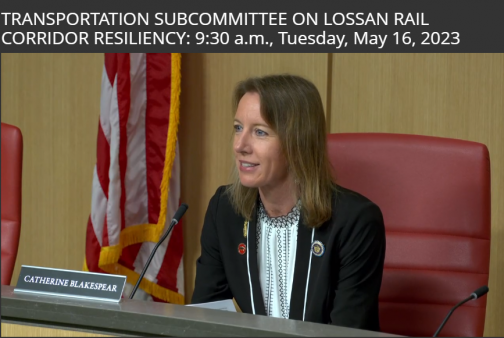 We held the first hearing of the Senate Transportation Subcommittee on LOSSAN Rail Corridor Resiliency, which I chair. We covered a lot of ground and had terrific presentations from the LOSSAN Rail Corridor Agency, San Diego Association of Governments (SANDAG) and Orange County Transportation Authority (OCTA).
Ultimately, we established that the LOSSAN corridor is a critical part of Southern California's transportation network that is threatened by erosion and climate-related issues.
Before the hearing, I outlined my goals for what I hope the subcommittee can accomplish in this op-ed in the Orange County Register.
You can watch the full hearing here by scrolling down to the date of the hearing (May 16) and clicking on the watch link for the subcommittee. There was also media coverage in The San Diego Union-Tribune and The Coast News.
To get a sense of the impact of the interruption to service to the rail line caused by eroding hillsides, we talked to riders. To hear what they have to say, click on the image below to watch a five-minute video of their input.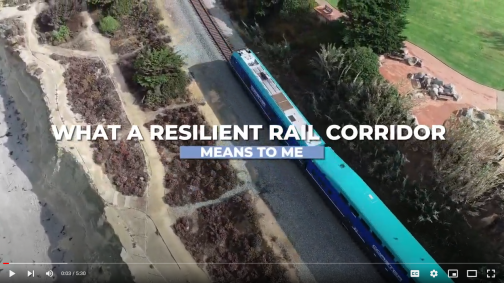 The 351-mile rail line is crucial for the movement of people and goods through Southern California. This map (below), provided by Jason Jewell, the LOSSAN Rail Corridor Agency's Managing Director, shows the incredible reach of the line and how it is integrated into the region's transportation network. It's the nation's second-busiest passenger rail corridor, and it spans six counties with a population of about 20 million people. We cannot let it fall apart!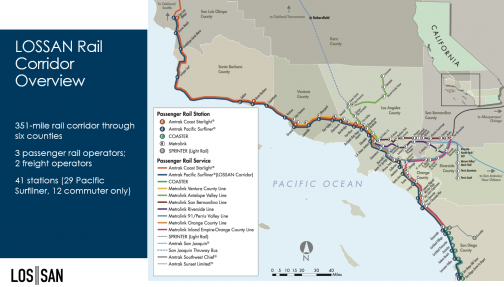 There is no doubt this is a significant regional, inter-regional, state, national and international asset, and it is being undermined by Mother Nature. At the hearing, we learned about the threats to the line in San Diego, Orange, Ventura and Santa Barbara counties, and the work being done to monitor erosion and protect the safety of the tracks.
The line remains closed to rail traffic through San Clemente, due the recent hillside collapse below Casa Romantica. The city has begun work to stabilize the hillside, and when it's done, rail engineers will reassess the safety of the tracks there.
We plan to hold our next hearing in July. Our goal is to raise the profile of LOSSAN and work with the administration and federal government to ensure the corridor's rail service is reliable, convenient, resilient, safe and frequent long into the future.
We will work to optimize state and federal investments. Also, we aim to create a framework for prioritizing projects, so all agencies and governments involved work together on a smart plan that benefits everybody instead of competing against each other for investments in particular segments.
I want to thank U.S. Rep. Mike Levin and the many other officials at multiple levels working on this issue.
Lastly, I'm hiring for a committee consultant to help the subcommittee with its work. You can find out more about the role here.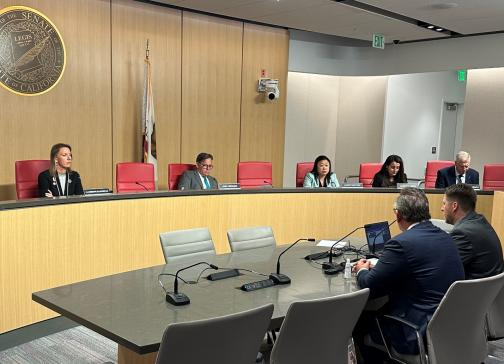 The subcommittee's members are, left to right on the dais, Sens. Josh Newman, Janet Nguyen, Monique Limón and Tom Umberg.

Open House at Encinitas Office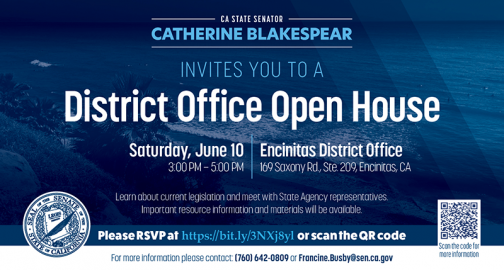 You're Invited! We're holding an Open House at my Encinitas District Office. If you intend to come, please RSVP to https://bit.ly/3NXj8yl
The Open House will be held 3 p.m.-5 p.m. on Saturday, June 10. The office address is 169 Saxony Road, Suite 209, Encinitas.
In addition to meeting my staff, you'll also get the opportunity to meet representatives from the California Department of Motor Vehicles, California State Parks, CalFresh, Covered California, Caltrans and the California Highway Patrol who will answer questions and provide information about their services and programs to anyone interested.
I hope to see you there!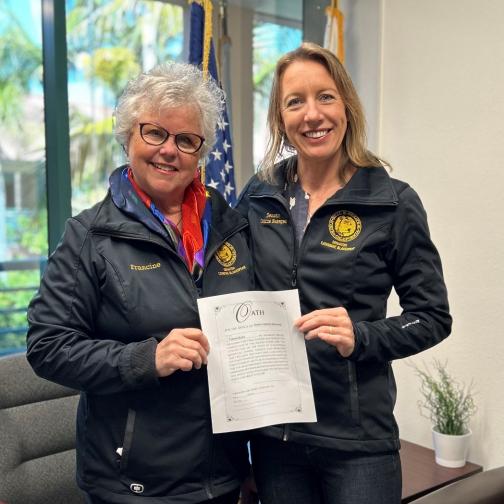 I was thrilled and honored to welcome Francine Busby (above, on the left, after being sworn in) to my team. As a 30-year resident of San Diego County and former elected official who previously served as District Director for Congressman Mike Levin, Francine is a valuable member of my staff working as a Senior District Representative.
Based in my Encinitas District Office, Francine wears many hats, and like all my district staff, is always working to serve constituents. Recently, she helped a local business owner out of a big jam.
The constituent wrote: "Hello, I need assistance with the DMV. We own a business that employs 30 plus people. We have 23 trucks that we are selling. We recently paid off the truck loan and are waiting for the DMV to release the titles. We have asked if we can physically pick up the titles or expedite the processing and be able to track them. Every single time we call the DMV, we get a different answer. All we need is the new paper titles they are processing. If we don't get the titles this week we will lose out on $1 million dollar sale and be forced to lay off 30 plus people. We need these titles this week in our possession and are willing to go anywhere to get them. Can you help?"
Francine contacted the DMV and was able to get the titles released. The constituent wrote back to say he was amazed and grateful. He wrote: "I very much appreciate the service and response that your office has given one of its constituents! It has really solved a huge problem and I cannot thank you enough."
We're here to help as best we can. If you have a state government issue, please contact me at Senator.Blakespear@senate.ca.gov.

Visiting the Pechanga Band of Indians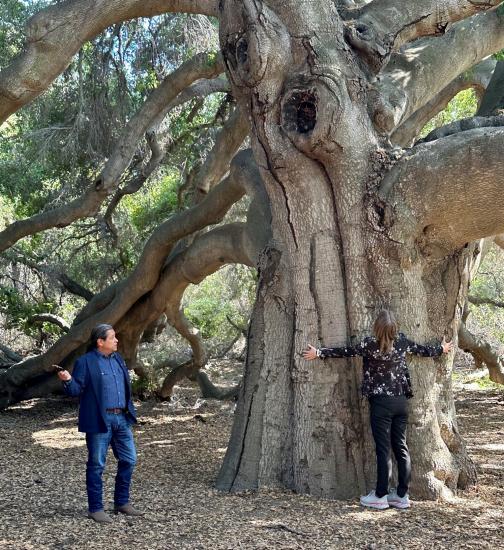 The Great Oak (pictured above) was magical and was one of the highlights of my recent visit to the Pechanga people's land, near Temecula. I joined two of my legislative colleagues on a briefing with the Pechanga Tribal Council to learn about the tribe's history, membership and impact. Chairman Mark Macarro (at left in photo above) and his councilmembers brought us through the Pechanga people's history and explained why having strong government-to-government relationships are important.

The reservation was federally recognized by President Chester Arthur on June 27, 1882, through an executive order and consists of approximately 7,700 acres. The population has over 2,100 members.

The Pechanga Band of Indians launched Pechanga Western Electric, the first tribally owned and operated electric utility in California. It is also a leader in emergency response to surrounding communities both on and off tribal lands.

More on the Great Oak - it was amazing! This oak tree has been independently analyzed and it is believed to be between 1,000 and 2,000 years old. It is recognized as the largest naturally grown indigenous coast live oak in the Western United States. And it's also still growing, as evidenced by the splitting you can see in the bark and the base of the tree.

The tree has protected itself from any outside destructive influences by shrouding its massive heft beneath an obscure canopy of unassuming branches. There was literally an entirely different climate beneath the arms of this behemoth. I immediately connected with the Great Oak and had to give it a hug! I'm thankful that the Pechanga people are stewards of this land and this tree.

Celebrating the San Dieguito River Valley Conservancy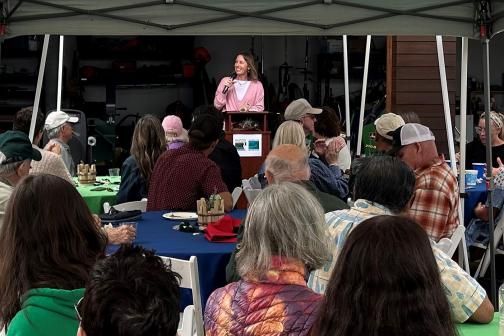 I was delighted (photo above) to participate in the San Dieguito River Valley Conservancy Volunteer Recognition Celebration last Sunday. More than 200 attended the event held at the San Dieguito River Park Lagoon Ranger Station.
The San Dieguito River Valley Conservancy (SDRVC) has worked for more than 30 years to preserve, protect and enhance the San Dieguito River Valley, which is considered the most intact watershed remaining in San Diego County. The watershed runs 55 miles from Volcan Mountain north of Julian through conifer and oak woodlands, grasslands and chaparral to the San Dieguito Lagoon between Del Mar and Solana Beach.
It's a tremendous natural resource enjoyed, and appreciated, by thousands of Southern Californians each year. I can't wait for the Coast to Crest trail to be completed, which will connect Julian to Del Mar via a hiking and biking trail. Right now, 49 miles of the 71 total miles are complete, but gaps remain to be filled. We have San Dieguito River Valley Conservancy and San Dieguito River Park Joint Powers Authority to thank for their ambitious vision and many years of work.

That's why I was glad to designate SDRVC as District 38's Nonprofit of the Year. The conservancy will be honored at a luncheon held on June 7 on the State Capitol grounds. Here I am (photo below) with, from left to right, Leana Bulay, Senior Interpretive Ranger; Joe LaCava , San Diego City Council Member, District 1; Marnie Von Wilpert, San Diego City Council Member, District 5; Shawna Anderson, San Dieguito River Park JPA Executive Director; Jeff Barnouw, SDRVC volunteer; and Cheryl Goddard, SDRVC Executive Director.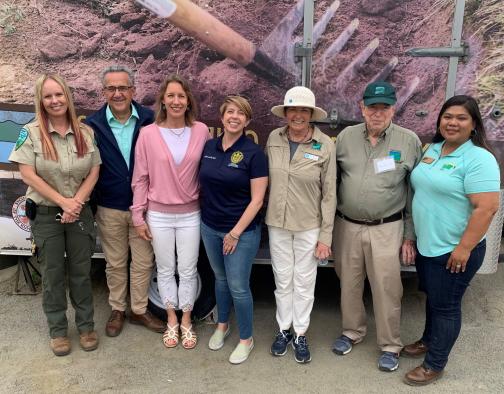 Meeting Rep. Justin Jones, a gun violence prevention champion!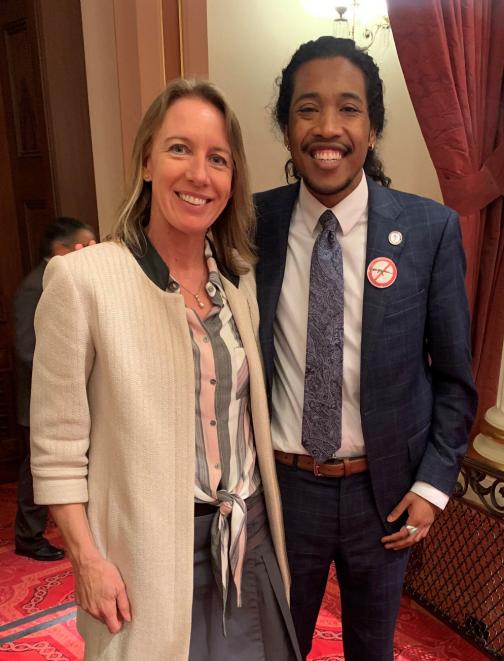 It was a true honor to meet courageous Tennessee state legislator Justin Jones (above), who recently visited the California State Senate. He led a gun control protest on the floor of the Tennessee House of Representatives in April after an awful shooting at a Tennessee Christian school killed six people. His colleagues in the Republican-led chamber then voted to expel him and fellow Democrat Justin Pearson, but days later the two were reinstated to the House.
Like Justin, I don't think we're doing enough to reduce gun violence. I have authored three bills on the topic. SB 417, which would require gun sellers to post warnings about the danger of having a firearm in a home, has been passed by the Senate.
SB 452 would require all semiautomatic pistols sold in California to use microstamping technology that would etch unique identifiers on expended cartridges. That would provide law enforcement with valuable information to help identify shooters. The Senate passed the bill on Wednesday. Finally, SB 8, which would require liability insurance for gun owners, has been put on hold for this year, but I hope to move it forward next year.

To learn more about what I am doing, follow me on social media.
Email me at Senator.Blakespear@Senate.ca.gov
Call my Encinitas district office at (760) 642-0809
Call my Laguna Hills district office at (949) 598-5850
Call my Capitol office in Sacramento at (916) 651-4038