Press Release
Sen. Blakespear Highlights $1.4 Million in State Funding for San Dieguito River Park
Completion of the Osuna Segment will connect the coastal and central portions of the Coast to Crest Trail
DEL MAR, Calif. – Sen. Catherine Blakespear, D-Encinitas, presented a check to the San Dieguito River Park Joint Powers Authority (SDRPJPA) for $1.4 million on Friday to fund the completion of an important section of the Coast to Crest Trail.
Thanks to Blakespear's advocacy, the funding was added to the 2023-24 state budget. With it, the San Dieguito River Park will be able to build the 1-mile Osuna Segment that involves erecting a 150-foot-long steel truss bridge across the San Dieguito River.
"The San Dieguito River Park is an incredible natural resource, a treasure enjoyed by thousands of Southern Californians each year," Blakespear said. "I am excited that I was able to get state funding to enhance the park's wonderful network of trails."
The Osuna Segment, which will connect the coastal portion of SDRP's Coast to Crest Trail to the central portion, will be located between the San Dieguito Lagoon and Fairbanks Ranch. It will link 4 miles of western lagoon trail segments already in place to 27 miles of contiguous trail to the east.
"We are one step closer to fulfilling the promise we made to provide a continuous and coordinated system of preserved lands and trails within the San Dieguito River Valley," said City of San Diego Councilmember and San Dieguito River Park JPA Board Chair Joe LaCava. "I thank the Senator for securing $1.4 million in state funding for the San Dieguito River Park trails fund. This funding enables us to complete the Osuna Segment, completing a critical river crossing, in building out the Coast to Crest trail network. This crossing offers substantial benefits for both the environment and the community, making the Senator's efforts a worthwhile investment for all of us."
"The JPA is thrilled to receive this state award to close this critical trail gap and link these trail segments," said Shawna Anderson, SDRPJPA Executive Director. "The Osuna segment represents the 50th mile of completed Coast to Crest Trail that will one day span the entire 71-miles of San Dieguito River Park from coast to crest. It is an honor to be recognized and supported by Senator Blakespear."
For more information about the San Dieguito River Park and trail system, visit the SDRP website. To be a part of the San Dieguito River Park legacy, donate here: https://www.sdrp.org/donate/. Donations are tax-deductible.
Elected in November 2022, Blakespear represents Senate District 38, which covers northern San Diego County and part of inland Orange County. To learn more about the district and Sen. Blakespear, visit her Senate website.
###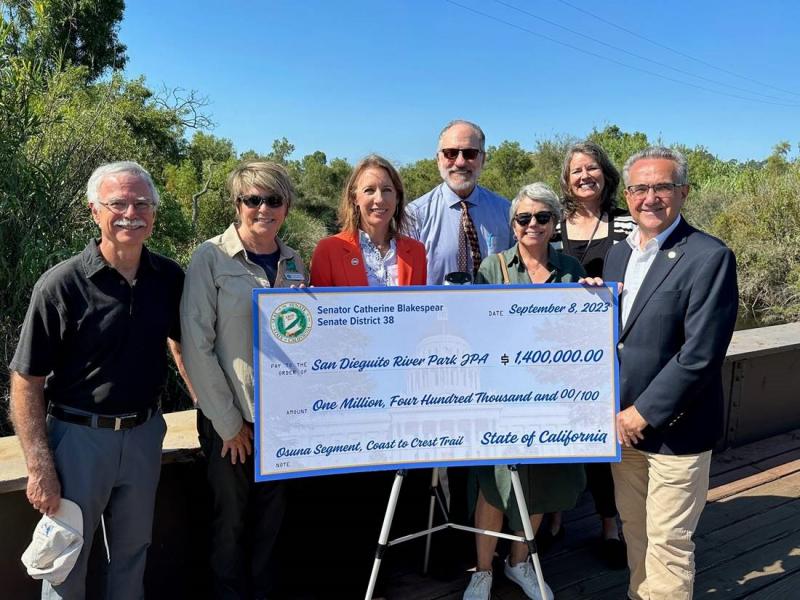 Sen. Blakespear presents check to the San Dieguito River Park JPA on Friday morning. Thanks to Sen. Blakespear's advocacy, the 2023-24 state budget included $1.4 million for the park to build a segment of the Coast to Crest Trail. In the photo, left to right, are SDRPJPA Board Member Chris Khoury, SDRPJPA Executive Director Shawna Anderson, Sen. Catherine Blakespear, SDRPJPA Board Member and Del Mar Councilmember Dwight Worden, San Dieguito River Valley Conservancy Board President Lee Haydu, former Del Mar Mayor Ellie Haviland, and SDRPJPA Board Chair and San Diego Councilmember Joe LaCava.