Press Release
Sen. Blakespear Presents Check to Age Well to Provide Van Services to Orange County Seniors
LAGUNA HILLS, Calif. – Sen. Catherine Blakespear, D-Encinitas, presented a $510,000 check to Age Well Senior Services, Inc., on Thursday to procure six vehicles to provide non-emergency transportation services to medical appointments throughout Orange County to seniors who have mobility challenges.
A nonprofit established in 1975, Age Well is focused on serving older adults and helping them maintain their vitality and independence. It operates a non-emergency medical transportation program that provides door-to-door service from the homes of seniors to medical appointments, including critical dialysis and cancer treatments.
Age Well travels throughout Orange County and even as far away as the Long Beach Veterans Administration Hospital. In 2022, it provided 23,000 rides to seniors. The funding, which is part of the 2023-24 state budget, will replace six aging vans with new, more environmentally friendly hybrid models.
"I know from my own personal experiences assisting my father just how important Age Well's services are," Blakespear said. "Getting reliable rides to the doctor helps keep seniors healthy and active. I am glad I could get this money added to the state budget and enhance Age Well's support of seniors."
Steve Moyer, CEO of Age Well, said the new vehicles are much needed. 
"This generous grant awarded to Age Well Senior Services, Inc. advocated by Senator Blakespear and approved by Governor Newsom for new hybrid vehicles, will pave the way for enhanced non-emergency medical transportation, ensuring our seniors have access to the care they deserve," Moyer said. 
Seth Teigen, chief executive of Providence Mission Hospital, which is the largest safety net hospital in South Orange County, also participated in the check presentation.
"South County residents are fortunate to have a network of dedicated community partners like Senator Blakespear and Age Well that come together to address needs through innovative collaboration," Teigen said.  "This program will ease the way for seniors and enable them to receive the preventative care that will help them thrive." 
Elected in November, Blakespear represents Senate District 38, which covers northern San Diego County and part of Orange County. To learn more about the district and Sen. Blakespear, visit her Senate website. 
###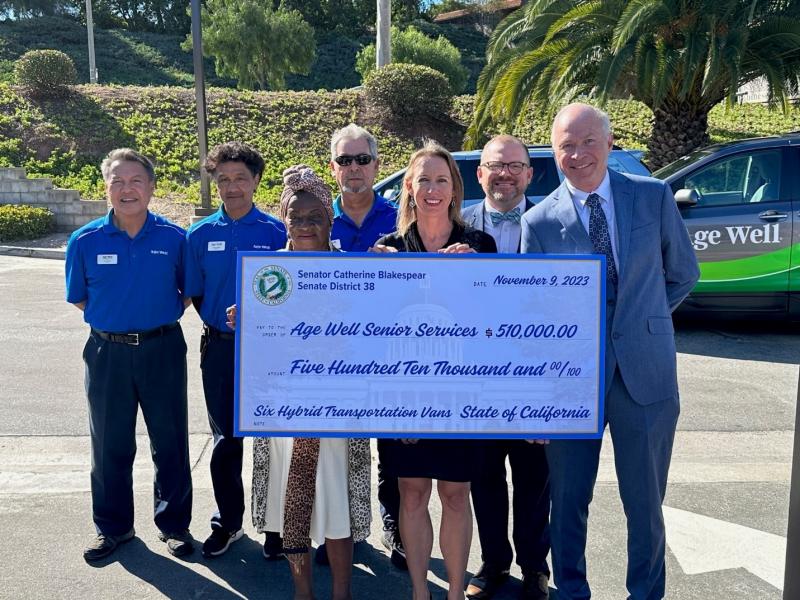 Sen. Catherine Blakespear presented the check to Steve Moyer, CEO of Age Well Senior Services, Inc. In the photo, left to right, are Age Well van drivers (in blue shirts) Leo Ibaniz, Carlos Vergara and Rudy Arroyo; van rider Vashti Williams (holding check); Blakespear; Providence Mission Hospital Chief Executive Seth Teigen; and Moyer.